2016 Reading Challenge

Laura has read 0 books toward her goal of 365 books.
0 of 365 (0%)
view books
I had fun with this one, though I may need to just try to beat my total of 327 points as my own personal challenge!
Rules:
1 point for each prequel or sequel novella read and reviewed

2 points for each full-length sequel read and reviewed

10 points for completing and reviewing a full series (doesn't require novellas)*†

**You do

not

get points for the first book in a series
Goal: 101+ Points (Veteran)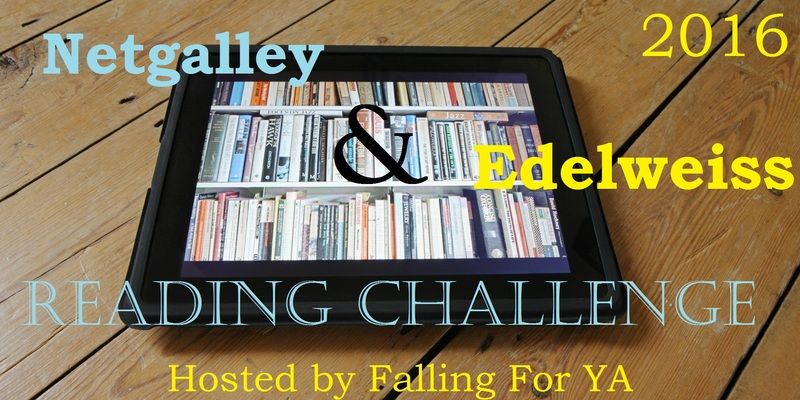 Hosted by Falling for YA. I did super well this year with this challenge so it seems logical that I go for a big challenge!
Goal: 100 Books (Diamond)
Hosted by Michelle @ Because Reading & Berls @ Fantasy is More Fun. I have just 4 books to go before completing the 2015 version of this challenge, without any passes or anything (just a little proud of myself there! So I'll still be going for 48 books (4 books a month) for 2016...May have to admit to having started my list some time around the start of November too...
I may also have used this list to make me read a lot of the Netgalley books I have stored up...I doubt I'll ever managed to clear them all but I can at least try! (Though there are some books I've bought and some from other places!)
Goal: 48 Books (4 Books per Month)

Manic by JA Huss
Panic by JA Huss
Slack by JA Huss
Taut by JA Huss
Bomb by JA Huss
Guns by JA Huss
Fool's Assassin by Robin Hobb
Thief's Magic by Trudi Canavan
Lying Out Loud by Kody Keplinger
Nearly Almost Somebody by Caroline Batten
The Captain's Blue Stocking Mistress by Erica Ridley
The Major's Faux Fiancée by Erica Ridley
The Brigadier's Runaway Bride by Erica Ridley
The Pirate's Tempting Stowaway by Erica Ridley
Cutlass by Ashley Nixon
Flintlock by Ashley Nixon
Need by N Isabelle Blanco & K I Lynn
Renegade by Erica Stevens
Heat of the Moment by Lori Handeland
Smoke on the Water by Lori Handeland
25 Perfect Days by Mark Tullius
Wool by Hugh Howey
Shift by Hugh Howey
Dust by Hugh Howey
Tigress by J E Taylor
Aberrant by Ruth Silver
Moirai by Ruth Silver
Pawn by Aimee Carter
Angelbound by Christine Bauer
The Bane by Keary Taylor (Also known as Eden for some reason)
Ignite by Erica Crouch
Entice by Erica Crouch
Incite by Erica Crouch
Engage by Erica Crouch
The Queen's Handmaid by Tracy L Higley
Cinder by Marissa Meyer
Darkest Flame by Donna Grant
Fire Study by Maria V Snyder
The Maiden at Midnight by Kate Harper
The Mistress at Midnight by Kate Harper
Phantom's Dance by Lesa Howard
Sunset Rising by S M McEachern
Remember to Me by Nina Croft
Death Defying by Nina Croft
Temporal Shift by Nina Croft
Blood and Metal by Nina Croft
Alloy of Law by Brandon Sanderson
Shadows of Self by Brandon Sanderson
Hosted by herding cats & burning soup and Addicted to Happily Ever After. I am terrible at keeping up with my review copies, so this is actually a really good challenge for me! I am going a tad conservative on my estimate here though!
Goal: 50 Books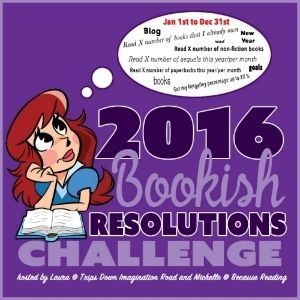 This is the challenge hosted by myself and Michelle @ Because Reading. You can check out the rules and sign up here!
Blogging Goals
Schedule posts before the day they are 'due' (especially for challenge updates!)
Reintroduce non-review content
Cross post Blog Posts regularly, preferably in under a week since post date
Tidy up the Trips Down Imagination Road Facebook & Twitter Pages
Visit other blogs regularly (I used to but this dropped off the radar a bit)
Reading Goals
Improve Netgalley ratio by at least 10% (if this is achieved by the half way mark then it will be upped to 20%). I did succeed in improving my ratio in 2015 and was actually quite surprised to find I'd improved it by 7% (at the time of writing).
Finish 10 series this year. (I get distracted a little easy! I can have already started the series previously)
Complete 3 year long challenges (may change the number depending on how many I sign up for). Bookish Resolutions does not count for this sub-goal.
Read 3 books a month that were already on my kindle at the start of 2016 (can be from Netgalley, Amazon etc.)
Personal Goal
Finish Cloaked (the sequel to my published Novella)
It's COYER time again! Which is exciting in itself! This time around it's going back to basics, though I think most of my books from last time would still count! I'm going to try for my normal goal of a book per day of COYER
Hosted by Michelle @ Because Reading & Berls @ Fantasy is More Fun
Goal: 77 Books

Seeing as I did so well on this challenge for 2015 I don't think I have any choice but to go for the top option this time around either!
Hosted by Lexxie @ (un)Conventional Bookreviews & Stormi @ Books, Movies, Reviews! Oh My!
Goals: 45+ Books - New Release Enthusiast
Hosted by The Book Date, I am a little late with this one, but I do think it's one that I really want to do! Obviously I'm aiming for 80% or above (based on books bought June 2015 onwards, and I'm hoping I can stick to that!