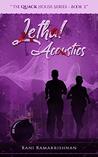 Lethal Acoustics by Rani Ramakrishnan
My rating: 3 of 5 stars
Lethal Acoustics is a fairly quick read and the story is interesting. It has a touch of suspense, a decent and different plot, but is found wanting in the finish.
Manju runs an enterprise called 'The Quack House' where she listens to people with problems who seek to unburden themselves and want advice. Manu is passionate about it, though her husband Sunil does not see much potential for it and threatens to cut off funding. Manju is determined to surge ahead though. She runs into an unexpected problem when there are strange noises at her workplace. This unnerves visitors and threatens to ruin her business.
A preliminary investigation reveals that these noises could be part of a larger plot where Manju is either an accidental or deliberate target. Some events subsequently also bring up past traumas for Manju.
The story is different, and an easy read which moves smoothly. While the plot is decent, the motive is very poorly tied up at the end which reduces the book's appeal considerably.
My rating: 3.25 / 5.
View all my reviews