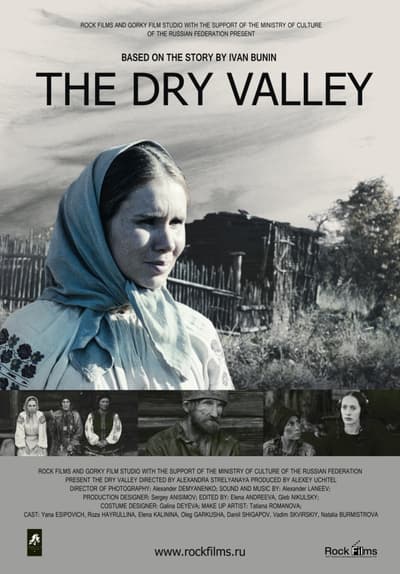 "Dry Valley" is the first full feature film by
Alexandra Strelyanaya
. The film is based on the famous novel written by Nobel Prize laureate Ivan Bunin.
This story unites the destinies of the landowners and their servants, and is considered to be one of the most complete portraits of the Russian life in the late XIX century. It takes place in Dry Valley, a village owned by the noble family of Khrushevs. The story tells about Natalia, a young and naive girl who serves in their
Country House
. We see and experience her love, dedication to her masters, mysticism, exile, betrayal and faith, while the Dry Valley is falling to pieces, slowly but inevitably, as well as the lives of its inhabitants. History: "Bunin started working upon the book in summer 1911, when at the Vasilyevsky estate in Oryol Governorate. In September of that year he wrote to the Moskovskaya Vest correspondent: "I've just finished the first part of a large novelet called Dry Valley".[4] The work was finished in December 1911 on Capri where Bunin stayed at Maxim Gorky's home. On February 21 he read it to the host and another visiting guest, Mykhailo Kotsiubynsky. Both praised the book, the latter likened it to "an old tapestry."[5]
The book's plot was fictional but numerous details in it later proved to be autobiographical. The Sukhodol estate bore close resemblance to a family country house in the Oryol Governorate owned by Bunin's uncle Nikolay Nikolayevich where Ivan with his younger sister Masha were frequent guests. The prototype for aunt Tonya was Bunin's aunt Varvara Nikolayevna who lived in a large neighbouring country house (and was, in Vera Muromtseva's assessment, "slightly off-kilter"). Pyotr Kyrillovich character in the book was a veiled portrait of Bunin's grandfather Nikolay Dmitrievich (whose mother, born Uvarova, died young).[6][7]
Critical reception''. Fuente:wikipedia.
As Ivan Bunin's previous book, The Village, this one divided critical opinion. Some, like Vladimir Kranikhfeld, hailed it as masterpiece. "In Sukhodol Bunin summed up the whole of the [Russia']s past and endowed it with magnificent monument", he wrote in Sovremenny Mir (Modern World).[8] Others criticized the author for negativism. "Dirty, hungry, eaten through to its very bones by illnesses and lice – such is Russia as seen through the eyes of Sukodol' author," argued L. Kozlovsky in Russkiye Vedomosti.[9]
2011: Director: Alexandra Strelyanaya Screen Play by: Alexandra Strelyanaya Director of Photography: Alexander Demyanenko Art-director: Sergey Anisimov Costume designer: Galina deeva Make-up artist: Tatiana Romanova, Irina Derbina, Ekaterina Blinova, Ksenia Malkina, Ludmila Bolshunova Sound Director: Alexander Laneev Composer: Alexander Laneev Editor: Yelena Andreeva, Gleb Nikulsky Starring: Yana Yesipovich, Rosa Hayrullina, Elena Kalinina, Oleg Garkusha, Daniil Shigapov, Vadim Skvirskiy, Natalia Burmistrova Producer: Alexey Uchitel Co-Producer: Kira Saksaganskaya Production: Rock Films, Gorky Film Studio with the support of the Ministry of Culture of the Russian Federation Country of production: Россия Genre: Drama.