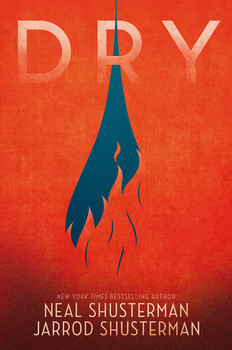 Dry
by Neal Shusterman
and Jarrod Shusterman
Published by Simon & Schuster Books for Young Readers
on October 2, 2018
Genre: Young Adult, Dystopia, Climate Fiction
Length: 390 pages
Goodreads

|

Amazon

|

B&N

|

BookDepository



Synopsis:
The drought--or the Tap-Out, as everyone calls it--has been going on for a while now. Everyone's lives have become an endless list of don'ts: don't water the lawn, don't fill up your pool, don't take long showers.
Suddenly, Alyssa's quiet suburban street spirals into a warzone of desperation; neighbors and families turned against each other on the hunt for water. And when her parents don't return and her life--and the life of her brother--is threatened, Alyssa has to make impossible choices if she's going to survive.
My Thoughts:
I read this fast-paced Young Adult dystopian for the 'cli-fi aka climate fiction' PopSugar prompt. The premise is that after years of drought, water flow to California just stops, leaving millions of people without water.
Alyssa and her little brother, Garret, aren't prepared and when they run out of water, their parents head to the coast where desalination machines have been set up. When they don't return, Alyssa and her brother realize that they have to do something. Luckily, their across-the-street neighbors are 'preppers' that have a son, Kelton, who just happens to have a big crush on Alyssa. Coming together for the sake of survival, they maneuver chaos and desperate characters alike as they search for water and a safe place.
I feel like this is a very important read that poses a lot of important questions about what would happen if a crisis or disaster were to strike.
What would you do if there was no more water? How would you survive? How would your neighbors survive? How would society as a whole be affected?
We get a little taste of this every time there is a hurricane here in Florida. Everyone flocks to the store to buy up the last of the water, bread, and canned goods. Gas is gone before the storm even hits but everyone still needs to go to work or evacuate. Society basically falls apart and
I've seen first hand how people suffer because they were not prepared beforehand.
It's good to be prepared, but it won't always make things better. It's nearly impossible to 'prep' for every single scenario and it's likely that it'll all go south and not as you planned anyway. Kelton found this out pretty quickly!
This is the second novel by Neal Shusterman that I've read and I think I'm seeing a trend of defying the status quo and writing about real problems that affect us as a country and a society. I'm looking forward to reading more!