Hidden Figures: The True Story of Four Black Women and the Space Race
by Margot Lee Shetterly
with Winifred Conkling
Illustrated by Laura Freeman
Published by HarperCollins
on January 16, 2018
Length: 40 pages
Goodreads | Amazon | B&N | BookDepository
Literary Awards:
Coretta Scott King Honor for Illustrator (2019)
Synopsis:
Dorothy Vaughan, Mary Jackson, Katherine Johnson, and Christine Darden were good at math... really good.
They participated in some of NASA's greatest successes, like providing calculations for America's first journeys into space. And they did so during a time when being black and a woman limited what they could do. But they worked hard. They persisted. And they used their genius minds to change the world.
In this illustrated picture Book edition, we explore the story of four female African American mathematicians at NASA, known as "colored computers," and how they overcame gender and racial barriers to succeed in a highly challenging STEM-based career.
My Thoughts:
I have the full length novel somewhere on my TBR shelf waiting to be read but I couldn't pass up reading the picture book to my daughter. I love books like this that show girls that they too can grow up to do amazing things if only they persevere with their dreams.
More so, this picture book is about the four intelligent black women who
worked for NASA, doing mathematics, programming their first computer, engineering airplanes and spaceships, and helping the United States to send the first man around Earth and land on the moon.
This picture book only dips into the lives of Dorothy Vaughan, Mary Jackson, Katherine Johnson, and Christine Darden and their accomplishments, which just makes me want to read the full length novel more, but it is a great summary of both the history of 'the Space Race' and these extraordinary women.
It follows a timeline (which is illustrated in the back of the book), starting in 1943 when the first African-American female "computers" were hired at what is now NASA. These women did all the complicated mathematics that we now use actual computers for.
Each of the four women started working for NASA at different times but each played a huge roll in aeronautics and space travel.
Overall, I'm glad to have come across this important book and hope to read and learn more about these women and their contributions soon!
Looking for more biographies of amazing women?
Be sure to check out my reviews for these!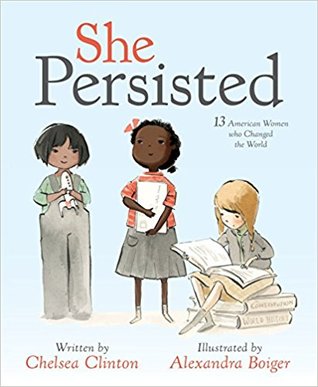 Happy reading!