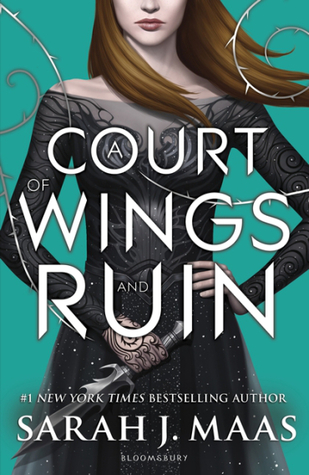 Title: A Court of Wings and Ruin
Author: Sarah J. Maas
Series: A Court of Thorns and Roses #3
Publisher: Bloomsbury Children's Books
Publication Date: May 2nd, 2017
Genre: Young Adult / New Adult, Fantasy Romance
Pages:

699 pages

Format:

ebook

Source:

Borrowed

Goodreads

|

Amazon

|

B&N





Synopsis:
Looming war threatens all Feyre holds dear in the third volume of the #1 New York Times bestselling A Court of Thorns and Roses series.
Feyre has returned to the Spring Court, determined to gather information on Tamlin's maneuverings and the invading king threatening to bring Prythian to its knees. But to do so she must play a deadly game of deceit--and one slip may spell doom not only for Feyre, but for her world as well.
As war bears down upon them all, Feyre must decide who to trust amongst the dazzling and lethal High Lords--and hunt for allies in unexpected places.
My Thoughts:

Warning! Possible spoilers ahead!


In A Court of Wings and Ruin, romance takes a back seat to war, death, and destruction.
So far, this is my favorite book in this series.
I wasn't the biggest fan of the first book because it dragged so hard until the very last 10% or so. The second book was much better but the MC drove me bonkers with her whining so I just couldn't enjoy it.
A Court of Wings and Ruin
is more of what I expected from Maas. There's more action, Feyre has finally come into her own, and there was just sooo much more plot this time around.
There was so much more about the secondary characters as well. It wasn't all about Feyre and Rhysand, which I guess was both good and bad. Good because there's no way this series could go on and keep my interest if it was all about them, and bad because I really felt like both of them were pushed to the side to build up other relationships. Though it was sooo lovely to not be overly annoyed by Feyre this time around.
I was glad that there was more about Feyre's sisters. I was really starting to dislike both of them and was starting to literally loathe Nesta but she surprised me towards the end.
I have to be vague here but think I saw the
thing
with Mor way before it was confirmed. It just made sense to me. Especially with the direction that Maas took with Cassian, Azriel, and Feyre's sisters. I do think it was a cop out to just add that in the third book and not even really hint at it sooner though. As I've seen others say, it was not represented well and really just feels like it was thrown in last minute.
I'm hoping that all the secondary character development means that the story will veer towards other characters or relationships. I have a few thoughts but ultimately have no real idea where Maas is going to take this series in the next three books.
The war was pretty epic. Very reminiscent of
Throne of Glass.
I enjoyed the battle scenes (especially toward the end). There were dark gods, death, and plenty of on-the-edge-of-my-seat moments. I mostly just enjoyed that there was more action than romance this time around.
My Rating: 5 stars