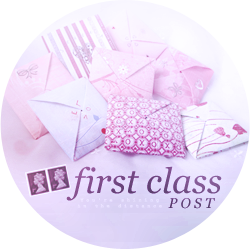 First Class Post - because this post is first class!
Books Purchased:

Physical copies:

The Hate U Give by Angie Thomas (6th April 2017)
After finishing this incredible novel, I had to buy a finished copy to get signed when I went to an event with Angie Thomas and Patrice Lawrence (see below). This book is amazing! You can find a link to my review further down the post.

Daughter of Smoke and Bone by Laini Taylor (29th September 2011)
I finally have this in hardback! I already have it in paperback, but when I went to get my books signed when Taylor was in the UK, I realised the set would look better all in hardback. I had to buy it on eBay, but it's in pretty good nick, so I'm happy!

eBooks:




The Humans by Matt Haig (9th May 2013)
This was going for 99p, and as it sounded interesting, I thought I'd snap it up! Looking forward to it!


Books Received for Review:
Books with an * are reading copies I received as a book seller.

Proofs:

Song of the Current by Tolcser (6th June 2017)
This sounds so good! A fantasy set on a river! A mystery crate! Politics and intrigue! A river god who isn't speaking to Caroline! Oooh, I'm excited!

The Names They Gave Us by Emery Lord* (1st June 2017)
This sounds so intriguing! Normally, I'd be really excited to read this, but I DNF'd When We Collided, as I just wasn't getting on with it. I'm really hoping it's just that story, and not Lord's writing.

Genuine Fraud by E. Lockhart* (7th September 2017)
I have no real idea what this is about, but I am intrigued! Friendships, murder, disguises, a runaway heiress! I don't even know, but it sounds interesting!

Passing For White by Tanya Landman (15th May 2017)
This is based on the true story of Ellen Craft, telling the story of a slave who's father is her owner, and uses her fair skin to her advantage to seek freedom for herself and her husband, disguising herself as a slave owner, with her husband as her slave. I think this is going to be a really powerful read.

Hole in the Middle by Kendra Fortmeyer (6th July 2017)
I am so intrigued by this book! I think it's going to have really interesting things to say about body image, and I love how it's taking this extreme of a girl who literally has a whole in her belly to get the message across. Such a clever idea! Really looking forward to it!

Finished Copies:

OCDaniel by Wesley King* (12th April 2016)
This may be a little younger than I usually read, but I'm really intrigued by this story. The title drew me in, but there's a mystery, too, it seems. Looking forward to giving it a go!

The Call by Peadar O'Guilin (1st June 2017)
I'm really excited to read this! It sounds kind of creepy, which I'm a little worried about, but also action packed and exciting! And the protagonist is disabled due to Polio, so a diverse book, too!

eARCs:




Flame in the Mist by Renée Ahdieh (18th May 2017)
Do I really need to say anything? I'm looking forward to this Mulan retelling, and I mostly loved Ahdieh's The Wrath and the Dawn duology, so I have my fingers crossed!

No Filter by Orlagh Collins (13th July 2017) 2017 YAIE Debut
This sounds awesome! A wealthy social media addict who has to deal with family secrets while living with her grandmother, where there's no signal or wifi, but a boy. Really excited for this.

The Possible by Tara Altebrando (1st June 2017)
So intrigued by this book! Kaylee's mother Crystal is in jail for the infamous crime of killing Kaylee's little brother. And there were rumours that Crystal is telekinetic, but those rumours died down years ago. Until now. This sounds thriller-y and exciting!





But Then I Came Back by Estelle Laure (4th April 2017)
About a girl who's life completely changes after waking up after nearly drowing left her in a month-long coma. Sounds so good!
Flight of a Starling by Lisa Heathfield (29th June 2017)
About sisters in a travelling circus, family secrets, and what happens when one falls in love with a boy, and doesn't want to move on. Heathfield is known for tackling hard-hitting topics, so I'm intrigued to see what happens in this one.

A Jigsaw of Fire and Stars by Yaba Badoe (7th September 2017)
This book sounds incredible! It seems to be magical realism, from what the description on NetGalley says. And I believe it's #OwnVoices. Really looking forward to reading it! And just look at that gorgeous cover!



When Dimple Met Rishi by Sandhya Menon (13th July 2017) 2017 Debut
I am SO EXCITED for this book! I have been wanting to read since I first heard about it the beginning of the year (or end of last year?), and was so over the moon to hear Hodder & Stoughton would be publishing it in the UK! Really looking forward to reading it!

The Wee Free Men by Terry Pratchett (27th April 2017)
I'm a little hit and miss with Terry Pratchett, but the Tiffany Aching series (within the Discworld) sounds kind of fun! Looking forward to it!
Superpowerless by Chris Priestley (15th June 2017)
This sounds really intriguing! About an ordinary, geeky teenage boy, except for the fact that he has super powers. But instead of his superpowers making his life easier, they have the opposite affect! And he has a secret! Looking forward to giving it a go!

Thank you to Bloomsbury Children's Books, Hot Key Books, Simon & Schuster US, Barrington Stoke, Atom, and Hodder & Stoughton, Bloomsbury, Orchard Books, Corgi Books, Hot Key Books via NetGalley for the review copies.

Check out mail memes: The Sunday Post on Caffeinated Book Reviewer and Stacking the Shelves on Tynga's Reviews.

-------------------------


Book Reviews:
Heartless by Marissa Meyer - I absolutely loved this prequel, origin story of the Queen of Hearts from Alice in Wonderland. Such a wonderful story! Meyer doesn't disappoint!
The Hate U Give by Angie Thomas - This book is incredible. So powerful and so important. Such a moving story that is a call to arms. Read this book.
The State of Grace by Rachael Lucas - I didn't enjoy this story, sadly. There didn't seem to be one main focus, the characters all seemed younger than they are, and we also never got to know them very well. Disappointing. But the #OwnVoices Asperger's syndrome rep helped me understand what it's like to have Asperger's syndrome.
Lips Touch by Laini Taylor - This short story collection is SO GOOD! God, I just love Laini Taylor's writing! Absolutely adored the final story, Hatchling! I wish is was a full length novel!
Letters to the Lost by Brigid Kemmerer - Such an incredible, beautiful, moving story! I absolutely loved it! And I loved reading Kemmerer's writing again. I am such a fan of hers!
Thicker Than Water by Brigid Kemmerer - I was actually disappointed with this one. Not as good as Kemmerer's other novels; not much happened until right at the very, very end, and the climax was over quickly, with the story ending abruptly with too many questions left unanswered - and no sequel planned.
The Book Thief by Markus Zusak - This was such a fantastic story, but I wasn't as emotionally involved as I would have liked to have been. I think having Death narrate Liesel's story made me feel more detached from her story, despite loving his narration. Still, a really awesome stoyr!
Labyrinth Lost by Zoraida Córdova - Unfortunately, this one wasn't for me. I felt it needed more developing; there were things that were too easily fixed, things that were too convenient, and not enough answers.
The Jumbies by Tracey Baptiste - This was so good! Such a wonderful, fun, creepy fantasy adventure! I loved it!
The Truth About Alice by Jennifer Mathieu - Such a thought-provoking, powerful, and incredibly important novel that deals with bullying and sex-shaming. I highly recommend it!
Other Posts



I reviewed 13 Reasons Why, the absolutely brilliant Netflix adaptation of the book of the same title. An incredibly powerful and important show, it's an absolute must-watch.


-------------------------


What I've Been Reading Online
Books
The Barnes and Noble Teen Blog share 5 Great Immigrant Narratives in YA.
i09 reveals the cover and an excerpt from The City of Brass by S. A. Chakraborty, a historical fantasy set in the Middle East.
YA Interrobang shares a list of Bisexual YA Books.
On Tes, Watchman illustrator Dave Gibbons shares Four Reasons Why Graphic Novels Get Children Reading.
Teen Vogue lists 8 Books with South Asian Characters to Read in 2017 - all YA, and all sound amazing!
Authors
S. F. Said is on CBC Diversity talking about how children's books can change people's lives in The Big Questions.
--
If you enjoyed this post, feel free to follow me on:
Bloglovin' | Twitter | Instagram