First Class Post - because this post is first class!
I received a lotof books in March, and I'm sharing a lot of links to of things to read online, so advance warning, this post is super long.
Books Purchased:
Physical copies:


Lips Touch by Laini Taylor (23rd October 2014)
When I heard that Laini Taylor was going to be in the UK in April, I wanted to make sure I had all her books. I knew about the US edition of Lips Touch and was going to buy it, then discovered the UK has an edition, too! So I snapped it up.

Written in the Stars by Aisha Saeed (24th March 2015), The Jumbies by Tracey Baptiste (28th April 2015) & American Street by Ibi Zoboi (14th February 2017)
I bought all of these books because they're three of the books mentioned in Heidi Heilig's Author Takeover at MuggleNet, where she recommends 30 diverse YA novels - which she dared me to read as a reading challenge.

The Girl From Everywhere by Heidi Heilig (2nd March 2017)
Now I have the new edition, too, which matches The Ship Beyond Time! So Heidi Heilig needs to come to the UK now, so I can get them all signed!

Tender Morsels by Margo Lanagan (9th February 2017)
I actually thought I already had this, but nope. So I nabbed it when I saw it in my shop. It'll count towards the Retellings Reading Challenge 2017 as it's a retelling of Snow White and Rose Red.

Cruel Beauty by Rosamund Hodge (7th April 2015)
With Beauty and the Beast coming out this month, how could I resist a retelling? I've wanted this book for so long, and I'm so glad I now have it!

Strange the Dreamer by Laini Taylor (28th March 2017)
I absolutely needed to get my hands on a finished copy! This book is too beautiful not to have an awesome hardback copy of. And now I have it to take to the signing!


Books Received for Review:
Books with an * are reading copies I received as a bookseller.

Proofs:




Who Runs the World? by Virginia Bergin (1st June 2017) UKYA
A story about the world being run by women? Where it's believed men no longer exist (but this might not be true)? Sold! I think this is going to be like 5 to 1 by Holly Bodger; a feminist novel that shows how gender equality is what's needed, rather than a matriachal society instead of a patriachal one.

After the Fire by Will Hill (1st June 2017) UKYA
This was an unsolicited review copy, but it sounds so good! Inspired by true events, this is the story of a girl's life in a cult, being told after a fire has destroyed everything she once knew - but everything she knew was a life of fear. I'm really intrigued by this story!

The Waking Land by Callie Bates (29th June 2017)
A high fantasy that looks interesting! A woman who was kidnapped by her father's rival, who raised her, who she has come to love. She'll be kidnapped again by her father, to be used as a figurehead for his new rebellion, claiming she's Widegarde reborn. But she does have magic in her veins. I'm intrigued!

Troublemakers by Catherine Barter (1st June 2017)
Andersen Press had a blogger event a few weeks ago that I was meant to go to, but ended up not being able to make. So Andersen sent me over the books I missed out on! This looks to be about terrorism, and activism, and maybe campaigning? I am so excited!

Being Miss Nobody by Tamsin Winter* (1st April 2017)
This deal with a young girl who is bullied because she is unable to speak in front of people, and who decides to speak up about her bullying in a blog. It also touches on cyberbullying I believe. I'm interested to see if this is going to touch on mental health, or if she simply refuses to speak.

Finished Copies:




Broad Strokes: 15 Women Who Made Art and Made History (In That Order) by Bridget Quinn (17th March 2017)
Art history on female artists who generally get excluded from art history. A feminist look at these artistst and their work. Sold!

The Seafarer's Kiss by Julia Ember (4th May 2017)
Oh my god, I have been SO EXCITED for this novel! It's a bisexual retelling of The Little Mermaid, which is my favourite fairy tale. And Julia Ember was visiting London for the day, around where I work, and as she knew I was so eager to read The Seafarer's Kiss, she popped in to give me a surprise copy! She is so lovely and awesome! And I am so excited!

Eden Summer by Liz Flanagan* ()
I haven't heard much about this book, but it does look interesting! About a girl who is trying to find our what happened to her best friend when she goes missing. (Link goes to the hardback edition, paperback edition isn't on Goodreads yet.)

Noah Can't Even by Simon James Green (4th May 2017) UKYA Debut
I'm really looking forward to this book about a questioning teen! It sounds funny and awkward, but also that it might be kind of adorable. I'm excited!

Naondel by Maria Turtschaninoff* (6th April 2017)
This is a reading copy sent to my colleagues, but as they've yet to read the first one, and they know I love this series, they gave it to me! And I've been quoted in it! My review is linked to below.

The Way Back Home by Allan Stratton (4th May 2017)
This is another one from the Andersen blogger event. Zoe breaks out her Granny, who has Alzheimer's, from her home, and take a cross-country trip. Features a trans character, too.

Encounters by Jason Wallace (7th June 2017) UKYA
The final book from the Andersen blogger event. And oh my god, this sounds amazing! Based on true events, about alien sightings in Africa! It sounds creepy, but so interesting! Really looking forward to it!

eARCs:




A Crown of Wishes by Roshani Chokshi (28th March 2017)
I actually requested this as a bit of a whim, as I didn't think I'd get it. But I did! Now I just have to get the first book, The Star-Touched Queen!

Girls Can't Hit by T. S. Easton (18th April 2017) UKYA
I'm not a huge sports fan, but this sounds like there's more to it than just boxing; how people react to Fleur's new hobby, being that she's a girl. Feminist novel!

The White Hare by Michael Fishwick (9th March 2017) UKYA
I'm really intrigued by this book! The summary on Goodreads doesn't give much away, but it does sound mystical and mysterious! Really looking forward to giving this a go.

Other Breakable Things by Kelley York & Rowan Altwood (4th April 2017)
This sounds incredible, like a YA Me Before You! Luc's transplanted heart is failing, and is ready to give up, so goes on a road trip with his bets friend Evelyn - who's in love with him - to Oregan, where dying with dignity is legal. So looking forward to this!




The Disappearances by Emily Bain Murphy (4th July 2017)
A town where every seven years reflections, scents, the ability to dream disappear? How can I not read this book?!

The Ethan I Was Before by Ali Standish (29th June 2017)
I'm trying to see if I can get into middle grade/young fiction, but going for the ones I think will move me. This sounds like one of those books, where a boy is struggling to deal with the death of his best friend, which he believes was his fault.

Love and Vandalism by Laurie Boyce Crompton (1st May 2017)
There is something about books that feature graffiti as art that just really appeals to me. And showing Hayes around town... it makes me think of books like Just One Day.

Red Sister by Mark Lawrence (6th April 2017)
A high fantasy novel where women are trained at a convent to be assassins - but Nona Grey has secrets. I'm really intrigued!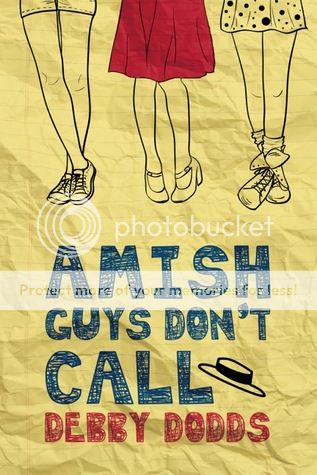 The State of Graces by Rachael Lucas (6th April 2017) UKYA
I am so excited to read this! A story about a girl with Asperger's, and I believe she experiences some changes that she has difficulties with. I'm really looking forward to it!

Ginny Moon by Benjamin Ludwig (2nd May 2017)
A story about a girl who has autism, in foster care, who is planning to escape to put something from her past right. This is published as an adult/general fiction novel, even though Ginny is 14, but it works as a crossover novel.

Amish Guys Don't Call by Debby Dodds (13th June 2017)
I'm intrigued by this novel that deals with a girl who is cyberbullied because her boyfriend is Amish. Hoping I enjoy it!

Thank you to Abrams & Chronicle, Macmillan Children's Books, Julia Ember, Usborne, David Fickling Books, Scholastic, Andersen Pres, and St. Martin's Griffin, Hot Key Books, Zephyr, Entangled: Teen, HMH Books for Young Readers, Orchard Books, Sourcebooks Fire, HarperVoyager, HQ, and Blue Moon Publishers via NetGalley for the review copies.

Check out mail memes: The Sunday Post on Caffeinated Book Reviewer and Stacking the Shelves on Tynga's Reviews.

----------------------------------------------


Books I Read in March
The Ship Beyond Time by Heidi Heilig - Oh my god, I absolutely loved this book! It's incredible; so clever, so emotional, so suspenseful! It's just epic! I'm so sad the duology is now over!
This Is How It Always Is by Laurie Frankel - This was just the most beautiful story, about a family trying to do the right thing for their trans daughter/sister, written by a parent of a trans child. I did have some issues with ableist language, but over all, this book is wonderful!
Naondel by Maria Turtschaninoff - This book is incredible. Such a heartbreaking but inspiring, empowering read! This is such a hard read, but full of courage and hope, and the incredible strength of women.
Our Own Private Universe by Robin Talley - The story wasn't really for me, but this is an incredibly important LGBTQ* YA novel. It's one that's sorely needed.
See You in the Cosmos by Jack Cheng - This book is beautiful! Alex is so adorable, and his innocence is eye-opening. Heartbreaking at times, but just a wonderful, wonderful story!
History Is All You Left Me by Adam Silvera - This is a beautiful and heartbreaking story, but I was a little disappointed with it, and was emotionally detached. But still a wonderful story!
Seven Days of You by Cecilia Vinesse - This book let me down in quite a big way. I think it's hugely problematic, and I won't be recommending it to anyone.


Diversity Spotlight Thursday:


Diversity Spotlight Thursday is a meme run by Bookshelves and Paperbacks, the aim of which is to highlight a diverse book you loved, a diverse book on your TBR, and a diverse book yet to be released.

Diversity Spotlight Thursday #4


Diversity Spotlight Thursday #5
Other Posts
March's Diverse YA & MG 2017 UK Releases - Exactly what it says on the tin; diverse books in the YA and MG categories that were published in February.
A Diversified Bookcase With Heidi Heilig - In my new feature to promote diverse books, Heidi Heilig stopped by to recommend some diverse books to the characters of her new novel, The Ship Beyond Time.
Eight Years a Book Blogger: How Blogging Has Changed Me - A discussion post for my bloggerversy.
When You're Told a Book is Racist, Why Do You Need to Judge it For Yourself? - Exactly what it says. A discussion/rant on something that has been bothering me lately.
----------------------------------------------



What I've Been Reading Online

Books

Again, this is long, so hiding it under a button.
The cover for Malinda Lo's new novel, A Line in the Dark, was revealed on Autostraddle, along with a Q&A about the book, and writing after the election.
There's a list on Goodreads for Muslim YA and Kidlit coming out in 2017-2018.
BookRiot has a list of 100 Must-Read Classics by Women.
The Barnes and Noble teen blog has a few interesting posts up; 6 Books to Read After You've Binged Caraval, Goodbye Days Author Jeff Zentner on the Evolution of an Idea, and New Releases: Geek Girls, Lost Girls, and Finding Your Fate in the Forest.
Bustle revealed the cover for a number of books; All the Wind in the World by Samantha Mabry (including an excerpt), The Nowhere Girls by Amy Reed, and That Inevitable Victorian Thing by E. K. Johnson (including and excerpt).
The BookTrust shared a list of books on Kindness, Compassion and Empathy, in support of the #BeKind campaign.
YA Highway revealed the cover for Saints and Misfits by S. K. Ali, which features an American-Muslim hijabi - and again, another awesome cover!
Bustle also has a post that tells you What to Read Next, Based on the Bookish Heroine You Relate to Most.
The NY Times talks about how a New Crop of Young Adult Novels Explores Race and Police Brutality, focusing on Angie Thomas' The Hate U Give but mentioning other novels too.
LGBTQ Reads shares Fave Five: Interracial YA & NA LBTQ Romances with No White People.
TRIGGER WARNING: Eating Disorders. Sad Perfect by Stephanie Elliot is has been tweeted about a lot recently due to being hugely problematic in regards to eating disorders. This anonymous review of Sad Perfect on Justina Ireland's blog goes into great detail about how problematic it is.
Check out Latinxs in Kidlit for children's books, MG & YA featuring Latinx people. You may know about this website already, but I've only just heard about it. So cool!
The Guardian talks about Books for Girls, About Girls: The Publishers Trying to Balance the Bookshelves.
An old one from January, but Bustle has a list of 10 Books By Indian Authors to Look Out For in 2017, featuring four YA novels.
Hypable reveals the cover for Autoboyography by Christina Lauren, including an excerpt.
Bustle has a great post on 5 Overrated YA Books (and What to Read Instead).
Bustle share 15 'American Street' [by Ibi Zoboi] Quotes That Will Inspire You to Read This Gorgeous, Timely Novel.
Entertainment Weekly talks about Cara Delevingne Announces Debut Novel, Mirror, Mirror.
Amy Spalding announced her next YA novel, The Summer of Jordi Perez (and the Best Burger in Los Angeles).
B.J. Epstein is on The Conversation talking about Why Children's Books that Teach Diversity Are More Important than Ever.
On the Barnes & Noble Teen Blog, Karuna Riazi, autthor of The Gauntlet, shares Six Must-Read YAs Starring Muslim Protagonists.
YA Books Central revealed the cover for Welcome Home, an anthology of stories about adoption, edited by Eric Smith.
On Paste Magazine, Eric Smith shares The Ten Best New Young Adult Books in March 2017.
The Bookseller reveals the four new authors who will have stories published in BAME anthology, A Change is Gonna Come in BAME Writers Pave Way For Change in Stripes' YA Anthology.
Entertainment Weekly revealed that Kiersten White will be writing a new book seres for Buffy the Vampire Slayer for Simon Pulse.
DIY MA talks about Why Kid Lit Matters.
MuggleNet revealed the cover for Indigo Donut by Patrice Lawrence.
The Barnes & Noble Teen Blog share 6 Tales From the Art Department, where cover designers talk about designing memorable covers.
Authors
MTV has a Q&A with Angie Thomas on The Hate U Give, Black Lives Matter and Writing an 'Unapologetic Black Girl Book'.
Paste has a fantastic essay from YA author Eric Smith about and how a YA novel about adoption - Autofocus by Lauren Gibaldi - impacted the search for his birth history.
There's a great article of Lesley University's site about a lecture MG author Tracey Baptise gave, Stories Wield Power, which talks about the need for more books by people of colour telling the stories of people of colour.
On Nerdy Book Club, Barbara Dee talks about how, at a school visit, she was asked not to talk about her mg novel that featured a girl questioning her sexuality.
For the Teen Librarian Toolbox's Social Justice in YA Lit Project, Shaun David Hutchinson wrote a fantastic post, If You Don't Get It, You Won't Get It Right, about non-marginalised authors about marginalised characters.
Laini Taylor talks to Bustle about Strange the Dreamer, themes of love and war, her writing process, and projects she wants to work on (which all sound amazing!).
In the lead up to the release of her middle grade book, The Gauntlet, The Book Wars interviewed Karuna Riazi about being a Muslim writer writing Muslim characters, and how being an activist affects her writing.
In the lead up to the release of A Crown of Wishes, Roshani Chokshi was interviewed on Brit & Co.
Bloggers
Firstly, there were a number of brilliant posts for World Book Day.

Amy of Amy Elizabeth shared World Book Day: My Life in Books, and Grace of Almost Amazing Grace wrote a piece for The Olive Fox, World Book Day: A Letter To Book Friends.
Cait of Paper Fury tells you How To Think Up Discussuon Post Ideas For Your Book Blog That Will Thrill Humans And Dragons Alike - as someone who struggles with this, I found this post really helpful, and will definitely be trying out some of Cait's suggestions!
So that was my March! How was yours?
--
If you enjoyed this post, feel free to follow me on:
Bloglovin' | Twitter | Instagram