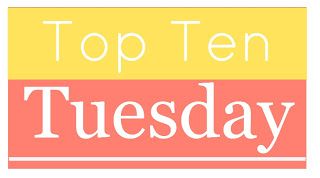 Top Ten Tuesday is a weekly meme run by The Broke and the Bookish. I haven't taken part in quite a while, so I thought it was time I joined in again. This week's topic is Ten Books I've Added To My To-Be-Read List Lately.
To be perfectly honest, most of the books that have been sent to me recently have been for feminist books gift guides I'm posting on my other blog, Jo's Scribbles (the first was on picture books if you're interested), so as they're not books I'll be featuring on here, I'm not going to include them. Also, my reasons are all going to be the same, and won't make for an interesting post. So, instead, I'll talk about the other most recent books I've added to my TBR.
I've actually been pretty good, lately! I just went to my room and had a look at what's most recent, and to get ten, I've had to go back several weeks - I think maybe even a month or two back. So I'm happy! I might have a terribly large TBR in all, but I'm not adding to it too frequently - I remember the days when I was receiving eight books per week. Far too much. Sadly, I've been struggling to read lately, so I'm not keeping up with my TBR.
Anyway, on to the recent additions! This isn't in order because, as some arrived a while back, I can't remember what order they arrived in!
The Great Hunt by Wendy Higgins
This is a retelling of The Brother's Grimm fairy tale The Singing Bone, and so of course I have a copy for the Retellings Reading Challenge 2017! (Yes, I will be hosting the challenge again next year! More info to come.) I'm really intrigued to see how this story will pan out in comparison to the original! It sounds like a great high fantasy, too! It doesn't come out until March 2017, so I will be saving it for next year.
Reign of Shadows by Sophie Jordan
This is a high fantasy novel that sounds awesome, with fairy tale themes itself. The kingdom has been in eternal darkness since the chancellor killed the king and queen and took the throne, but Princess Luna lives still. She has spent the last spent the last 17 years hiding in a tower, her survival depending on everyone believing she's dead. There's a guy, of course - an archer who she meets when he goes to the woods outside her tower. When the tower is attacked, the two must escape. Colour me intrigued! Can you feel those fairy tale vibes? This isn't out until February 2017, so I'll be waiting to read this.
A Quiet Kind of Thunder by Sara Barnard
Sara Barnard's second novel! A girl who is selectively mute, and a deaf boy the only person she can talk to. This sounds like a sweet romance, but I'm intrigued by why Steffi has been mute for most of her life. Again, not out until January 2017, so another one I'll wait to read.
RoseBlood by A. G. Howard
I cannot tell you how excited I am to read this!!! To be perfectly honest, I don't know much about The Phantom of the Opera, but I've always wanted to see it. And here we have a contemporary version with a the phantom still haunting the opera house! Again, excited! Another for the Retellings Reading Challenge 2017. Not out until January 2017.
Heartless by Marissa Meyer
And yet again, another for the Retellings Reading Challenge 2017! I have to say, I love the idea of origins stories, so I am beyond excited to have this origins tale of the Queen of Hearts from Alice in Wonderland. I'm not really a Wonderland fan, but I
am
a Marissa Meyer fan, so I have high hopes for this one! Out February 2017.
Just Juliet by Charlotte Reagan
Firstly, I love that cover. More bold LGBTQ YA covers, please! Secondly, this sounds like it's a mix of a sweet love story, and one where relationships are tested when Lena discovers her attraction to a girl. From the sounds of it, not everyone is accepting. This came out in September, so I've got to get my skates on and read it.
Fly on the Wall by E. Lockhart
I loved E. Lockhart's Ruby Oliver series, so I'm excited to get to try another of her books! I'm really intrigued by this novel! I find it a bit disconcerting that the main character turns into a fly, but I'm interested to see what she discovers when she's able to spy on the boys! Again, this came out in September, so need to get moving with my reading.
What Light by Jay Asher
A Christmas story!!! The world needs more YA Christmas stories! I am so excited to read this and get me in the Christmassy mood! I loved Jay Asher's debut, Thirteen Reasons Why, so I'm hoping What Light is going to be just as emotional! I'm saving this for December :)
The Loose Ends List by Carrie Firestone
This one sounds like a great read, but I've heard mixed reviews about it, and so I'm a little wary. I don't want to dislike it when it has such an emotional premise! It feels like it could be a really moving read, but I don't want to get angry. This came out in June - God, so it's been more than a couple of months since receiving my books! - but my wariness has had me putting off picking it up. I'll get to it soon though, it does sound good!
...And a Happy New Year? by Holly Bourne
A novella from The Spinster Club series! I am excited to join these three girls again and get a little more feminism out of them! And set around New Year, too! I'm looking forward to the celebratory feeling, but it's going to be a sad one, I can feel it. The girls are all off at uni now, separated, and this is their reunion. But it's also the last book in the series. I'm nervous about saying goodbye to them all. And saving this for the end of the year, obviously.
So those are the last ten books I received! Have you read any of these yet? What did you think? Any here you're looking forward to? Also, please link me to your TTT posts!