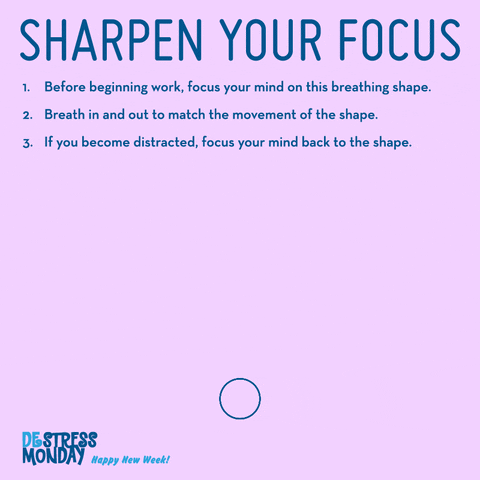 source: destressmonday.org
@destressmonday
Wouldn't it be great if you know what Mindfulness is and how you can apply it in your everyday life? Ok, pause and ask yourself if you even understand what it means to be mindful. Do you practice it daily? Do you know the number of ways mindfulness can be used in everyday life?
These might be questions you secretly dread because you don't know the answers and that's why you are here to find them.
As you read on in this blog, you will find out 5 ways mindfulness can be used in everyday life.
What is mindfulness?
Mindfulness, is a state of being in the present, and in the moment.
When you're mindful, you are paying attention to events happening in the present moment, whether your thoughts or activities around you. Mindfulness is all about accepting your feelings and thoughts about what is currently happening inside or outside of you, without judgment.
Here's a misconception about mindfulness. Too many people lose the true essence of being mindful by putting all the emphasis on practicing meditation alone. Yes, meditation helps mindfulness, but, it's just one of the ways mindfulness can be used in everyday life.
Mindfulness can be applied while on the chair, brushing one's hair, traveling on the bus or even while catching up with an old friend. The truth is, every moment we experience presents us with an opportunity to apply mindfulness in our everyday life and live in the present moment.
Daily Life Mindfulness Applications.
I have briefly talked about ways mindfulness can be used in everyday life. But, what about going into details to tell you exactly how, you can be mindful while carrying out your daily activities? Wait for it!
As we have mentioned, there are several ways you can become more mindful every day. In this article, we will talk about 5 ways to apply mindfulness into your daily life.
1. Be mindful when you wake up.
You set the tone of being mindful for the rest of the day if mindfulness is the first thing you practice in the morning. Don't be like people who just bolt out of bed in the morning. Who turn to the phone and messages, they were reading last night. This is how they start their day. Don't do this…that is not being Mindful.
Pay attention to your body and mind when you wake up in the morning. Do you feel tired or alert? How about your muscles, are they tight? Stretch your back and limbs, and be aware of the sensation of each movement. Try as much as possible to notice the first thought that crosses your mind the moment you open your eyes.
2. Being Mindful in the Shower.
We often enter the shower with a vague awareness of the temperature of the water. Our minds wander the moment we enter the shower and boom, we have started thinking about so many other things, other than the water and beautiful feeling of peace inside of us.
You should be mindful of so many things while you are in the shower. Are you mindful of the water and how it feels, as it washes over your precious skin? How about the sensation of your hands passing over your skin? Be aware of the smell of the shower gel, how much water you're using and even the thoughts entering your mind up as you enter the bathroom.
3. Be Mindful When Walking.
There is no day you don't do some walking unless you're sick and bedridden. Whether it is a short walk to the bathroom or a long one to school or work, we all move from one place to the other. And you'd be right if you conclude that every step provides us with an opportunity to be mindful.
Pay attention to your legs, body posture and feet as you walk. Be mindful of how your feet feel as they touch the ground, roll and move again. Notice the swing of your arms, the rotation of your hip joints, the wind on your face and the straightness of your spine. And endeavor to feel the stretch of the thigh and calf muscles of each leg, as you move forward.
4. Be Mindful While Listening.
Do You know that liberating feeling of peace after having a deep, personal conversation with a longtime friend? The feeling of heaviness that has just been taken off your chest? That's it! Your friends have been practicing mindful listening, even if some of them don't know they are doing it.
Truly being with people around us, I mean being there with them actively at the moment, is one of the best ways to use mindfulness to deepen our relationships with people both at home and at work.
To practice mindful listening, pay attention to everything about the people sharing their thoughts with you. Listen to their words. Give them your full attention while they are talking. Resist the urge to start preparing what to say next in your mind. And take notice of their body language and gestures as they speak.
5. Being Mindful While Waiting.
Whether you are stuck in traffic or waiting in line to perform a daily routine can be a big source of frustration for you. You're not alone. Our fast-paced life presents us with situations that are meant to annoy or irritate us.
But instead of using that period of waiting to practice mindfulness, many of us stand twitching and are impatient in the queue. Some of us even believe it is an opportunity to start surfing the internet aimlessly to search for news, gossip or anything that can distract us from the boredom of waiting.
Do you realize how you sigh loudly whenever you notice someone in the queue is not moving fast? Or how frustrated you'd be if you noticed you've left your card somewhere else and can't find it in your bag? Those are the feelings and emotions that distract you from being aware of your surroundings while waiting.
What else counts as being mindful, if seeing people who want to jump the queue doesn't? Be patient and read on.
Being mindful of what you will need before you set off.
Trying to be aware of the changes in your mood when you first join the queue.
Be aware of the tendency to distract yourself from being present in the moment.
Notice your breath, your posture, and where there is any tension as you scan through your body.
Finally, be mindful of how you relate to people in the queue with you.
I've talked about, applying mindfulness in everyday life, simple, and it is. All you need to do is to become more aware. Also, trying to make sure you notice the little details around you every day even though your wandering mind may not let you do that.
CONCLUSION
We hope you have found this blog-post interesting and informative.
Please do, let us know your thoughts and comments.
What did you find useful in this post?
When is your favorite time to do mindfulness during the day?
Of course, feel free to share this post with others who you think, may find it useful.
If you like this mindfulness article, you may also enjoy (click on the MINDFULNESS title below)
MINDFULNESS: A Practical Guide on How Mindfulness Can Stop Anxiety, Cope with Stress, Improve Mental Health and Find Inner Peace
…by R. ESPIRITO
Other books by R. ESPIRITO (click on the titles below)
Essential Oils and Aromatherapy: The 15 Most Popular Essential Oil Recipes for Stress, Sleep and Beauty.

YOGA, I Become. A SIMPLE GUIDE TO YOGA FOR EVERYONE. TO BECOME HEALTHY IN MIND, BODY, AND SOUL AND ALSO A YOGA DEVOTEE.
EMPATHY: A 10-STEP GUIDE TO EMPATHY, EMPATHY AND YOU,BEING EMPATHIC. Learn Empathic strategies for you and your life; to be more understanding of others

The post 5 Ways, Mindfulness Can Be Used In Everyday Life. appeared first on AwereFirstPublishing.