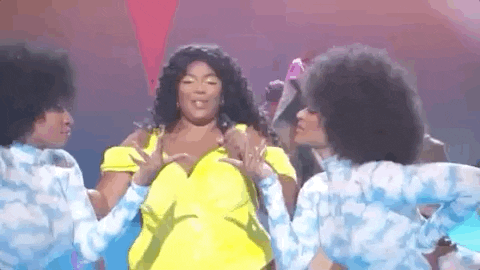 Lizzo From The 2019 VMAs
Get out from under your rock, please, and tell me if you've heard of Lizzo. The recent 2019 VMAs headliner Lizzo, is not only a fantastic singer, performer, and fashionista with outfits that slay, but she is a bad b**** with confidence for days. I'm embarrassed to admit that even though her songs have been hitting me up on the radio, Lizzo didn't come into my life until after she got mad hype from the previous POTUS, Mr. Obama, thanks to his popular playlist, which was shared on Twitter.
Lizzo's music is just one phenomenal thing about her. She seems like a genuine person, and honestly, her confidence is the kind of thing I wish I'd grown up with. Thankfully, I still have time to learn how to gain it (even though big girl advocates like the comedian and Oscar winner, Monique and reality star, Whitney Way Thore are still my go-to divas, too!).
Still, Lizzo's life feels relatable to me in this present junction of my life, because I will be a quarter-of-a-century soon. And, throughout my teens and early twenties, I've see-sawed between hating my body, loathing my curves, and wishing I never existed.
I'm sure there are other plus-sized, thicc, or heavy girls around the world who feel or have felt the same way I did. Ashamed for being too big and willing to do anything to lose weight just to please other people. However, the self-hate will stop. And, I'm thankful someone like Lizzo's exists. Big girls don't need to hide anymore (and shouldn't have been hiding in the first place), and here's how I think someone like me can replicate Lizzo's global-sized, positive, and yet realistic self-confidence, even if your confidence levels are at zilch:
Show Yourself REAL Self Love:
Self Love is not to be confused with selfishness (if you want to be selfish, do you). Being able to love oneself is more than a daily affirmation in the mirror. Self-love means that no matter what happens day in and day out you can still find something you love about yourself, and that means acts of love. Whether it's spending more time pampering yourself or doing some task you enjoy. Self-love means walking in love, wearing it on your sleeves, and making sure you know you love yourself more than any other man/woman.
Get Yo' Fatshion Game Right:
I use this term fatshion instead of fashion because while confidence should come from within, it helps if you feel good on the outside, too. A lot of retail stores are finally listening to fat girls and we are throwing money at them in order to get the outfits that accentuate, beautify, and make us feel like the way we want to be on the outside. Lizzo's leotards are sparkly, outspoken, and beautiful just like her personality. And, even when she's not on the stage performing for a crowd she wears what she wants, and looks good in it even if haters are in their feels.
Walk It How You Talk:
If you're going to be confident, and talk about having confidence as a pleasantly plump diva then, by all means, practice what you preach. Share with the world that you want to be more confident no matter your size, and then go for it. Yes, hit up the gym, walk/jog a marathon, and sit down with the girls to enjoy a pizza party afterward. Don't be ashamed of doing what makes you happy. Be the you, you want to be, and don't just talk about it. Do it!
Lizzo may not ever read this article, and that's okay. But, she's inspired me to be a better me every day and to keep it moving whether I'm a size 22 or a size 32, and I hope this article helps you too!