Taking to social media Tuesday, Kasich urged Electoral College members to vote for Trump — not for him — when they meet later in December.
"I am not a candidate for president and ask that electors not vote for me when they gather later this month," Kasich said in a statement. "Our country had an election and Donald Trump won."
"The country is divided and there are certainly raw emotions on both sides stemming from the election," Kasich continued. "But this approach, as well meaning as it is, will only serve to further divide our nation, when unity is what we need."
View image on Twitter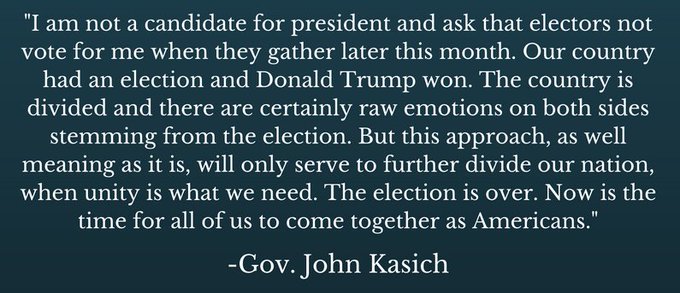 John Kasich

✔@JohnKasich

Gov. John Kasich statement on the recent news about the upcoming Electoral College meeting:

1,6001,600 Retweets

3,0693,069 likes
As TheBlaze previously reported, a handful of electors have corroborated to undermine Trump and deny him the majority of Electoral College votes.
Electors are set to meet Dec. 19.