"Reading books is food for the soul."
Self-help books is the tangible proof of that quote since readers receive an inspirational experience from them. Reading them feels like you just attended your own personal Leadership training. The Philippines and in other countries in the globe, self-help books gain popularity by their ability to inspire and shape the skills of people.
The best example would be the motivational speakers in leadership trainings in the Philippines, their knowledge and wisdom are sharpened thank to these reading materials.
The 5 Levels of Leadership: Proven Steps to Maximize Your Potential by John C. Maxwell


John C. Maxwell has sold over 26 million books in fifty languages, and he has been a consistent New York Times #1 bestselling author.
His book, the 5 Levels of Leadership, he defines leadership as a verb and not a noun. He challenges his leaders to create change and facilitate growth.
Maxwell believes that everyone can be a leader, regardless of their occupation or status in life.
There are 5 levels that is a roadmap for growth, which will teach you that leadership means influence and in order to increase your influence on others, you have to lead effectively.
The 7 Habits of Highly Effective People by Stephen R. Covey


This book was published in the 1990s when America and its citizen needed motivation to create higher productivity in business.
Since then, it has sold more than 25 million copies and has been translated into 40 languages around the world.
The very idea of this book is that habits develop as a result of repeated actions and a consistent level of commitment.
It focuses on the attitude of people in shaping their habits, it states that you can either be reactive or proactive towards life situations.
It is determined by knowledge learnt (what to do and why), skill acquired (how to do it), and spirit of motivation developed (want to do).
The Secret by Rhonda Byrne


The Secret tackles the Law of Attraction and how to use it in your life.
This book introduces the concept that people's thoughts influence not only their actions, but also the experiences that they bring in into their lives as well.
It also discusses several ideas that are surprising, exciting, and sometimes controversial.
Focusing your attention on a goal and not only believing that you can do it, but that you have already done it, is one of those ideas.
Basically, the author wants to say that you can achieve any goal you set your mind to, and miss Byrne teaches it effectively as evidenced by the worldwide success of The Secret.
How to Win Friends and Influence People by Dale Carnegie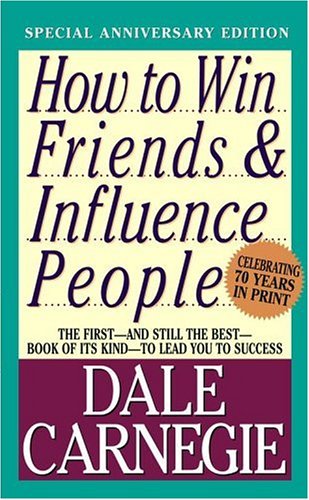 How to Win Friends and Influence People was published in October 1936, and since then it has been a primary reference in the self-help movement.
The book discusses fundamental techniques in handling people, six ways to make people like you, winning people with your way of thinking, and changing them without arousing resentment.
Dale Carnegie's wisdom has transcended the test of time since his book is still selling many copies until today.
Key Takeaway
These self-help books will help you in being the leader that you want to be. Sharing in the wisdom of these authors will inspire and motivate you to absorb the tips in leadership that you will acquire.
Visit your nearest book shop now and read on these significant meanings on what it takes to be a leader in life.