All posts on Blogging Business Boost may contain affiliate links, and I will be compensated for any purchases you make through my links at no cost to you.
What is Cricut?
Cricut is an amazing company that offers various cutting tools and machines, along with thousands of images and supplies for your creative idea or project. Their really cool machine, the Cricut Explore, lets anyone create amazing DIY projects. Whether you are an experienced pro or a brand new novice, Cricut makes it easy to make something you can be proud of.
Cricut Products
Maker
Cricut Maker quickly and accurately cuts hundreds of materials, from the most delicate paper and fabric to the tough stuff like matboard, leather, and balsa wood. Now your creative potential is exponential. Choose from hundreds of patterns, including Simpicity®, and Cricut Maker cuts and marks all the pieces in just a few clicks. Saving you plenty of time for the fun part.
With its revolutionary toolset, Cricut Maker cuts, writes, and scores more materials – with greater precision and control – than ever before. Plus, with more tools coming, Cricut Maker grows with you as you master each new craft. Save over $100 with a Cricut Maker

bundle. Valid 9/5-9/11.
Explore Family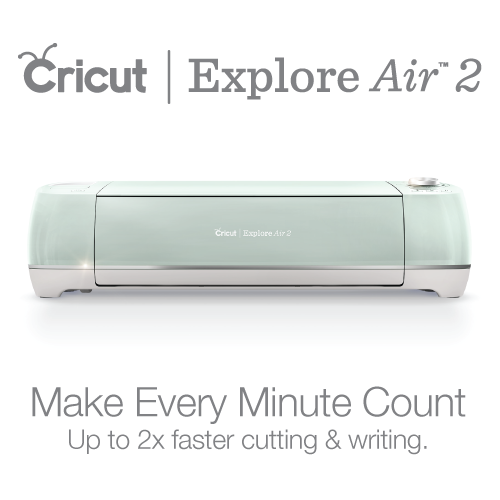 Big value, WOW-worthy results. With the flexibility to cut a wide range of craft materials and the precision to deliver exactly what you need, the best-selling Cricut Explore line of smart cutting machines. Cricut Explore machines cut a hundred different materials – everything from the most popular craft materials like cardstock, vinyl, and iron-on to specialty materials like glittery paper, polished foils, and bonded fabric.
Versatile fine-point blades enable Cricut machines to cut light- to medium-weight materials quickly and accurately, down to details smaller than a nail decal. And with Cut Smart

technology, you'll get the same results cut after cut. Make a beautiful, handcrafted card with a complementary envelope in minutes. Scoring Stylus1 makes easy-to-fold creases in the most popular paper materials with Cricut machines.
EasyPress
Get crazy-simple, professional iron-on results that last and last (and last!). With its huge heating surface, simple controls, and thoughtful safety features, Cricut EasyPress will make you wonder how you ever made do with that old, clunky iron.
No more vague dials and frustrating guesswork. Cricut gives you precise settings that have been rigorously tested using every iron-on type. Just use their Quick Reference Chart to make every project perfect. Pressure is overrated.
The Cricut EasyPress secret to getting the best iron-on result is applying perfectly even heat with uniform contact to your iron-on. Its large handle makes it extra-easy to maneuver. The insulated Safety Base keeps it protected when not in use.
And its auto-shutoff feature turns it off after 10 minutes of inactivity. All so you can keep your mind in creative mode, not worry mode.
Accessories and Materials
From cutting essentials to beautifully designed hand tools and everything in between, you'll have exactly what you need to realize every creative vision, making your labor of love an experience you'll love even more.
With its adjustable LED light and ultraslim profile, Cricut BrightPad lets you see every detail as you're weeding, tracing, paper-piecing quilt patterns, or jewelry making. It's especially suited to lighting up those hard-to-see cut lines in vinyl and iron-on. Cricut BrightPad

on sale for $59.99. Valid this week only!
Whether you need to smooth things out, grab a teeny edge, or cut something down to size, these carefully designed and engineered accessories ensure you've got the right tool for every crafting task.
Get inspired by their collection of diverse, high-quality materials, all designed to cut perfectly with Cricut machines. With finishes ranging from fun, flashy, and sassy to polished, rich, and refined, they make it easy to achieve exactly the look you're after.
Cricut premium cases provide organization, protection, and storage for your machine and supplies. Organize things at home, or take everything you need on the road. Stylish, sturdy, and functional, they're built to last a lifetime of DIY days and crafting nights. 50% off select cutting materials. Valid 9/5-9/11.
25% off accessories. Valid 9/5/-9/11.
Limited-time Only! Marvel Digital Mystery Box
This new, exciting Marvel content can be yours for only $24.99. Available for a limited time only.
FREE Shipping Code!
Click here to get FREE economy Shipping on orders $99+ to US and Canada. Enter code FREESHIP9.
The post Cricut's Marvel Digital Mystery Box and September Promotions appeared first on Blogging Business Boost.