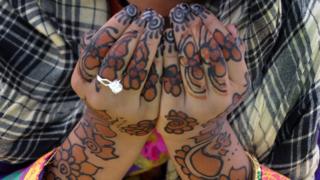 A Pakistan court has jailed a man for six months for marrying a second woman without his wife's permission.
The court in Lahore also ordered Shahzad Saqib to pay a £1,433 ($1,900) fine, rejecting his argument that Islam allowed him to have up to four wives.
Saqib's first wife Ayesha Bibi had successfully argued that marrying without her written approval was a breach of Pakistan's family law.
Women's rights activists said the verdict would discourage polygamy.
They also said it would empower women and could result in more women in similar situations taking up their cases with the courts.
"It is encouraging that a wronged woman has used this law to complain to the court," Romana Bashir, who heads the Peace and Development Foundation, a non-governmental organisation, told Reuters news agency.
"The decision augurs well for women's empowerment," she added.
In Pakistan, men who take multiple wives usually do so after a period of several years - and must get written approval from their first wife prior to a second marriage.
Pakistan's Council of Islamic Ideology (CII), a body that provides legal advice to the government on Islamic issues, has often criticised the country's family law.
However, recommendations by the CII are not legally binding.
Saqib has the right to appeal against Wednesday's verdict.
Source: BBCNews
This post first appeared on Peace Index, please read the originial post: here