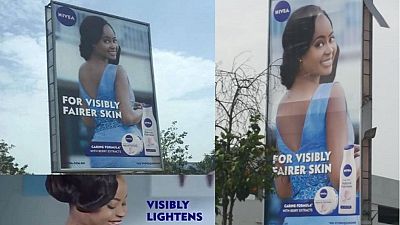 Producers of Nivea skin care products have responded to accusations of racism over billboard and television adverts of a skin-lightening cream promising "visibly fairer skin".
The advert showing former Miss Nigeria Omowunmi Akinnifesi using the body lotion to lighten her skin created a lot of outrage after pictures of the billboard ad in Ghana was shared online.
Beiersdorf, the parent company of Nivea said in a statement published on Facebook on Thursday saying: "We recognize the concerns raised by some consumers regarding a

NIVEA

product communication in Ghana and take them very seriously. Our intention is to never offend our consumers".
"We acknowledge every consumer's right to choose products according to their personal preferences, and we are guided by that to responsibly provide them with high-quality skin care product choices," the statement added without any apology.
Nivea had faced a similar attack in the United States in April after posting a deodorant ad on Facebook that declared "White Is Purity".
The German company pulled down the ad after people called the slogan racist and others hijacked the ad's online campaign with comments about white supremacy.
Social media has been busy since Wednesday with condemnation of the recent ad including campaigns from African social influencers and musicians like UK-based Ghanaian singer Fuse

ODG

who is calling for the "self-hate" billboards to be taken down.
The racism row follows a similar accusations leveled against Dove over a Facebook advert showing a black model turning white after using their body wash. A screenshot of the ad went viral and several people took to twitter to criticise the beauty brand.
Dove apologised for the ad saying the image "missed the mark in representing women of color thoughtfully".
The black model in the ad said it was taken out of context because the campaign was "supposed to be about all skin types deserving gentleness".
Below are some reactions on Twitter against the Nivea ad in some African countries.
This post first appeared on Peace Index, please read the originial post: here