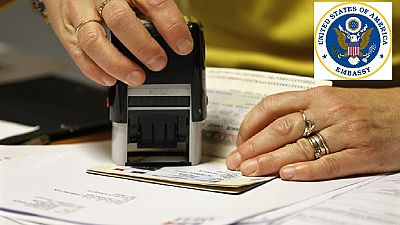 The United States has officially issued new visa restrictions on two African Countries – Eritrea and Guinea. The respective embassies in Asmara and Conakry confirmed the order. They added that the directive took effect on Wednesday September 13.
The move is believed to be as part of a threat issued by the U.S. State Departmentlast month in respect of 'recalcitrant nations,' a term that describes Countries that had refused to take back nationals scheduled for deportation from the U.S.
Eritrea, Guinea and Sierra Leone – were the African countries penned for the visa sanctions. It is not known why Sierra Leone has been left out of the current directive. The only non-African country on the list was Cambodia.
The United States Embassy Terminates the issuance of visas B, F, J, and M to Guinean officials and their close relatives, with limited exceptions.
Eritrea-Ethiopia border tensions persist due to US meddling – President Afwerki
In the case of Eritrea, the statement posted on the Embassy's facebook wall read in parts: "As of September 13, the U.S. Embassy in Asmara, Eritrea has discontinued issuing B1, B2 , and B1/B2 visas to citizens, subjects, nationals, and residents of Eritrea, with limited exceptions, in accordance with Section 243(d) of the Immigration and Nationality Act."
The sanctions in respect of Guinea are more expansive affecting even government officials. "The United States Embassy terminates the issuance of visas B, F, J, and M to Guinean officials and their close relatives, with limited exceptions," the Embassy said.
Both statements had a caution to applicants: "If you are subject to this visa restriction and you choose to apply, we will interview you but will not be able to issue a visa until the restrictions are lifted. Please consider this carefully before you apply. Application fees will not be refunded."
Eritrea govt persisting in systematic human rights abuse – UN report
There is a point of concern for the affected countries given that the 72nd United Nations General Assembly takes off in a few days in New York. Under the sanction regime, U.S. Homeland Security reserves the right to refuse entry to officials even after arrival in the country.
The U.S. has long threatened a number of African countries with mass deportation of their nationals. 7000 Ghanaians were threatened with deportation in April this year before 70 of them were sent back in June – all of them in handcuffs.
Source: AfricaNews
This post first appeared on Peace Index, please read the originial post: here