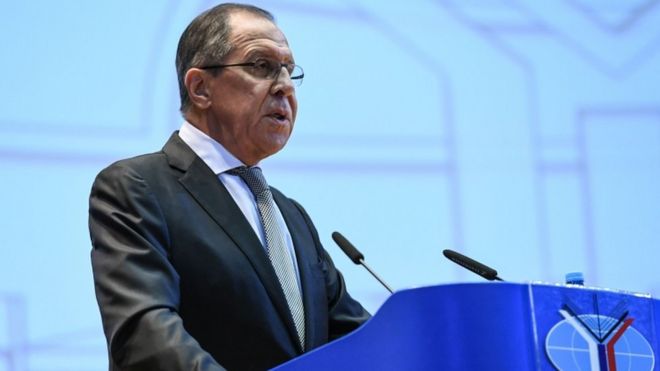 Mr Lavrov made the comments at a student event in Moscow on Friday
Russian Foreign Minister Sergei Lavrov has said his country will "respond harshly to things that will damage us" after the US ordered fresh sanctions.
The move followed Moscow's reduction of US diplomatic staff in Russia by 755 people in July.
But Mr Lavrov blamed the Obama administration for starting the diplomatic row last December.
In another development on Friday, fire crews were sent to the San Francisco consulate when thick black smoke was seen billowing from a chimney.
Firefighters said there was no cause for alarm and suggested "unknown items" were being deliberately burned. It was not clear whether crews had been allowed to enter the building
.
President Obama expelled 35 Russian diplomats, and closed two compounds over Russian action in Crimea and alleged interference in the US election.
"It was started precisely with the purpose of undermining Russian-American relations and preventing Trump from making constructive proposals during his presidency," said Mr Lavrov, "to make it as difficult as possible for him to implement his election promises to normalise relations with Russia."
He said Russia was still weighing up its response to the latest measure.
"We'll react as soon as we finish our analysis," he said.
Russian President Vladimir Putin did not initially respond to then-President Barack Obama's sanctions, but announced the sharp reduction of US staff in July.
The expelled US diplomats have until Friday to leave Russia - a day before the US closures of the Russian consulate and two annexes, which are trade missions, must be completed.
A senior administration official said on Thursday that the premises would close but no Russian staff would be required to leave the country.
The state department said the US actions were "in the spirit of parity".
Earlier this month, Mr Trump said US relations with Russia were at a "dangerous low" amid a row with Congress over the fresh sanctions against Moscow.
Mr Trump has been dogged by claims that Russia tried to sway the election in his favour and several investigations are under way to determine whether anyone from his campaign colluded with Moscow.
But the Kremlin has repeatedly denied interfering and Mr Trump has insisted that there was no collusion, calling the investigations a "witch hunt".
Source: BBCNews
This post first appeared on Peace Index, please read the originial post: here