We as a new age generation will have to agree on one point that social media has become an integral part of our lives. Not just for leisure but as a source of income too. If you are a newbie here then you should really need to catch up about the best video Editing Software for beginners.
10 Best Video Editing Software for Beginners
Whether it is about uploading amazing videos on your Instagram/Facebook account or to create something cool for your YouTube channel, it is really important for you to know about the video Editing programs we have right now. And for your step by step progress I think you should check out this section given below.
1. Apple iMovie
Website: https://www.apple.com/in/imovie/
Offered by Apple for apple devices only, this is the first pick in the category of best video editing Software for beginners. The reason of listing it on top despite the fact that it is not available for Windows devices is because it is absolutely free and just the right video editing software to start your journey from.
Apple iMovie takes care of everything from basic to pro work including browsing clips to making high-tech larger than life movie trailers.
Editing your videos is so handy on iMovie as you can manage the cross-platform integration between your various apple devices like iPad, iOS, Mac etc. Features you get with iMovie are 4K resolution support, various transitions and effects, dozens of styles and titles, various special effects like speed change, split screen effects, background change and many more.
Apple iMovie also has built-in collection of cool soundtracks and effects which you can add cleverly in your videos. They also have completely different section to create amazing trailers from all the footage that you have. This is just the perfect program to begin your expedition with.
Compatible with:
2. Wondershare Filmora Video Editor
Website: https://filmora.wondershare.com/video-editor/
I am sure you must have come across this amazing video editor earlier too. Filmora is a very renowned video editing software from Wondershare which provides powerful and advanced video editing tools to aid you in your respective business. It turns out to be the perfect choice when you are looking for best video editing software for beginners.
However, it is not available for free but you always have the option to check out the product through the trial version. Afterwards you can opt for either 1 year subscription charging $39.99 or you can directly buy it for just $69.99.
They have kept the interface and processing quite modern aiming mainly the passionate young generation who wants fast and efficient platform. Also, there are very amazing features involved like filters, graphic overlays, text and titles addition, drag and drop motion elements, animated elements, modern transitions and superb effects and many more.
Filmora surely stands out as the best beginner video editor as it also supports very basic tools like noise removal, GIF support, social import, color tuning etc.
Compatible with:
3. Adobe Premiere Elements
Website: https://www.adobe.com/ca/products/premiere-elements.html
Adobe Premiere Elements is a world popular and highly used video editing tools but not only professionals but naïve users too. Adobe always offers the best whether it is image editing or video editing and Premiere Elements makes the perfect example for it.
This makes the perfect inclusion in the list of best video editing software for beginners mainly because its simple interface gives a superb flow of work to the users.
However, it is going to cost you $99.99 to buy this program once the trial period ends. Although there are regular discount deals running where you can buy it for much lower price too. This program is most suitable for such users for whom editing is the main task as it handles everything from creation to touch up to professional makeover.
Now, talking about the features of Adobe Premiere Elements then these are organized and easy to use platform, step by step guide tutorial for the beginners, editing tools like trimming, extract pictures, clearer videos, mix music, effects, cinematic styles and many more.
Compatible with:
4. Pinnacle Studio 21
Website: https://www.pinnaclesys.com/en/products/studio/standard/
The latest version of video editing software by Pinnacle is Studio 21. This is the basic/standard version of this program which is the perfect boost for you to kick-start your career as a video editor. In fact, this standard version is what you exactly needed for your hunt of best video editing software for beginners.
In the basic details let me explain to you that you are going to get more than 1500 effects, titles and templates with it. However, the number of video making restricts to 6 and it is going to cost you $59.95 as one-time fee.
Taking clue from other popular video editing programs it has recently transformed its interface and made it totally modern. There are more versions of this exact same program with better features which are Studio 21 Plus and Studio 21 Ultimate.
Coming on to the features of this video editor for beginners then these are 3D titles editor, split screen videos, multi-camera editing, stop motion animation, massive library with royalty free music, dynamic and advanced video effects, video and photo slideshow, fast fix to basic video issues and many more.
Compatible with:
5. Vegas Movie Studio
Website: http://www.vegascreativesoftware.com/in/vegas-movie-studio/
Next option in the list of best video editing software for beginners is Vegas Movie Studio which is an entire package of fast and easy movie making tools. There are various software in this Vegas Studio family and for beginners I think this basic version would be just perfect.
However, this is also not available for free and it is going to cost you $9.99 but in discount deals it can be bought for only $49.99 too. Other versions of this program are Movie Studio Platinum and Movie Studio Suite.
It is so much fun to explore various tools and features of Vegas Movie Studio because there are literally many of them. To name some of the best ones you get features like easy drag and drop timeline editing, basic tools like trim, edit, rearrangement, fades etc., recovery of shaky videos, next level editing and mixing and many more.
When you upgrade to Platinum version you can get better and pro tools of video editing too. But I think Vegas Movie Studio is just the right software to learn the basics and essential tactics of video editing.
Compatible with:
6. Hitfilm Express
Website: https://hitfilm.com/express
Mostly used for adding VFX effects and cinematic masterpiece, Hitfilm Express is one of the best video editing software for beginners who are looking forward to learn adding effects in their videos. You would be really glad to know that Hitfilm Express is a completely free to use video editing software.
Of course, it has better and upgraded versions too which are Hitfilm Pro for $299 and Hitfilm Studio for $497 which are actually kind of expensive programs especially for a newbie.
Despite being a free version of video editor, it offers very professional grade tools especially when it comes to adding video effects and next level graphics in your existing videos. In fact, they have also provided online tutorials to help the users understand their functioning completely.
However, instead of video making and creation, Hitfilm Express is more sort of a tool which is used for post-production works. Still, it deserves to be in the category of beginner video editing software as it offers very helpful training tutorials.
Compatible with:
7. Videopad Video Editor
Website: https://www.nchsoftware.com/videopad/index.html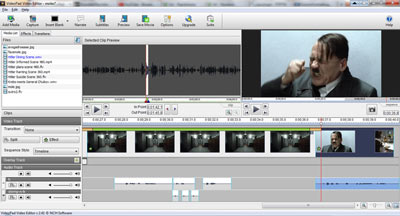 Videopad Video Editor is the only best video editing software for beginners which is having professional grade tools but still offers a free version too. Where other programs are limited to trial version only, you can download the free version of Videopad for personal use only but it is only available for Windows users.
If you are not satisfied with the free version then you can buy the full version which is going to cost $60 for home edition and $99 for Master's edition.
Videopad also supports various plugins to improve the functionality but it is under Master's Edition only. Other features of this program are various video transitions and effects, 3D video editing, audio tools, various optimization tools for videos and many more.
Videopad Video editor is the most perfect option for beginners as it has very basic tools and also some of the most advanced ones compiled together through a simple interface.
Compatible with:
8. Corel VideoStudio Pro X10
Website: https://www.videostudiopro.com/en/products/videostudio/pro/
Next one to join the list of best video editing software for beginners is VideoStudio Pro X10 by Corel. This program is no less than a complete package for the users having 360 degree video editing support to enhanced and advanced video editing tools than before.
Over the time this software has improved a lot and various new features are added recently only. You can buy it for $79.99. There is an Ultimate version too having upgraded features.
You get a huge list of features with VideoStudio Pro X10 ranging from basics to high-end. Some of them are support for various formats, customized impressions, multi-camera video editor, customized motion path, animation effects, motion tracking, more than 1500 video effects and filters, enhanced video quality and many others.
It is amongst the most popular video editor programs especially for its overlay effect and other modern tools.
Compatible with:
9. Nero Video 2018
Website: http://www.nero.com/enu/products/nero-video/
Nero Video 2018 is the current version of this Video Pro tool. It is mostly preferred for high quality and high-resolution videos and quite simple in approach. Unlike other best video editing software for beginners, it is quite straightforward but somewhere lacks the modern approach too.
However, the simple platform is the main aspect that it makes a perfect tool for the beginners and newbie and video editing business.
You can buy Nero Video 2018 for $49.95 which surely is the most affordable one amongst all the other software. With this program you get features like easy import of videos and other files, huge media library, titles, transitions, effects, 18 new movie templates, drag and drop effects and many more.
You can also export and burn files that too in 4K high quality through this software easily. There are also mobile apps available of this software too.
Compatible with:
10. Lightworks Video Editor
Website: https://www.lwks.com/
And the last option and also the most popular video editing software in this list is Lightworks Video Editor which is also the winner of 2017 Emmy Award Winner. It has been active since last 25 years and serving as an integral tool for editing videos for various purposes.
It is heavily used for film editing and has handled work of various popular movies like The wolf of Wall Street, Pulp Fiction, Heat and many more.
You can opt for the subscription of Lightworks Pro for $24.99 per month as the free trial period ends in 7 days only. There is also yearly license available for $174.99. This video editor comes loaded with amazing features like easy timeline editing and trimming, proxy workflow for 4K, export videos in various formats, royalty free audio library and many more.
However, when compared to other best video editing software for beginners, Lightworks has less to offer until you upgrade to the pro version.
Compatible with:
Recently published posts for you:
10 Best Voice Changer for Windows
10 Best Audio Editing Software for Windows
10 Best Download Manager for Windows
10 Best DVD Burning Software for Windows
10 Best Media Player for Windows
10 Best Game Recording Software for Windows
10 Best Webcam Recording Software for Windows
Conclusion
When you are opting this medium of social media as a career choice then, of course, you are going to start with very basic and money is an important aspect here. Most of the professional and advanced video editing programs offers really expensive subscription plans.
So, to start slow, I am sure you need cheap/free efficient editing software which do not go heavy on your pocket. Thinking about this aspects and more other things I have curated this list of best video editing software for beginners which is just perfect for the starting of your career. And I am sure their simple interface will give you additional boost too.
The post 10 Best Video Editing Software for Beginners appeared first on Techlazy.com.