Hi, readers! As you likely already know by now, I've had a new release in the past week or so. Here are some cool new Book reviews for it...
Interesting and exciting
Reviewed in the United States on November 27, 2020
Fara was orphaned and left in care to her estranged and forbidding uncle when she was a young girl and was completely under his control. The mysterious captain Grant happened upon two men accosting Fara one night and saved her. Fara and Captain Grant led an arduous, tortuous, dangerous, intriguing, twists and turns, spy filled, gossiped about love affair that led through a few long years of struggling with and without each other while trying to find their way to their HEA. Good read.

I received a free copy of this book via Booksprout and am voluntarily leaving a review.
Brenda Moser

's review
Read 2 times. Last read November 23, 2020.
This is a well written historical romance set in the 1860's France. The author does a beautiful job taking you back in time with her detailed and descriptive writing and kept me turning the pages with the surprises and twists along the way. Her characters are strong and her scenes are painted perfectly. The story moves fluidly and is a great read.I voluntarily reviewed an ARC of this book. All opinions in this review are my own and freely given.
Book one in the The Heiresses in Love Series a well written Victorian story that kept me turning pages. French heiress Fara Bellamont, Captain Grant Hill, and their son Gabriel, Madame Lina Devereux, and Fara's servants Rosalie and Pierre, and Eric the Captain's mate's story. There is suspense, drama, danger, capture and torture, a villain, and a second chance. This is a new Author to me, I want to read more in this series. I received a free copy of this book via Booksprout and am voluntarily leaving a review.
Ms. Lavender is a new to me author so I wasn't sure what to expect when I picked this up. I have to say I was very pleasantly surprised. This is the first installment of Heiresses in Love series. I think it is off to a splendid start! This book is not only written in my favorite genre, but it is filled with drama, action, and adventure which makes this a very entertaining and intriguing read. I really appreciated the way the author explained the social norms of the day and weaved them smoothly into the story. The characters had such great charisma and personalities that I was instantly drawn to their story and was completely immersed till the end. A smooth storyline with plentry of plot twists that kept me turning the pages anxious to find out what happens next. A beautifully written, well-crafted story, and I enjoyed every page. I will definitely be looking for more from this author.
I received a free copy of this book via Booksprout and am voluntarily leaving a review.
Space Cowgirl

's review (also on Amazon)
Sailing Away
A Want She Didn't Understand…
ADULT Victorian Era Romance and Adventure
.
1853
Tara, a young, eight year old French girl, has only her mother's ball gown, a painting, and a few momentos to remind her of her parents, both killed by Turkish Pirates while they were on a sea voyage. For them, it was love at first sight when they met.Now Tara is to go live with her father's brother, Michel de Bellamont, her uncle, a somber and distant unmarried businessman.
1863.
Long years at a convent being educated made Tara realize she has no life of her own. When she got out, she had a season, then her uncle chose a husband for her, a Mr Jean Le Croix, a wealthy young man she doesn't know. It's a living nightmare! He's a nightmare! He's her betrothed!
Mr Le Croix asks her to meet him at the docks, but instead, she is attacked and injured by two hired thugs upon her arrival there. Luckily, she is saved by a handsome and skilled swordsman. He is Grant Hill, the Captain of the ship Voyager.
ARC Provided by Booksprout
This ebook was $2.99 on Amazon at the time of this review.
Opinions Expressed here are entirely my own.
There are a number of continuity errors in the ARC copy I am reviewing from. There are also a lot of Historical errors. A riding horse is not a destrier! A healthy nineteen year old woman of wealth isn't attended by a nursemaid! She would have a lady's maid.
However, I did enjoy the story line of the book, but I disliked the character of Tara. She grows up in a convent, but apparently learned nothing there about being humble or kind. In the short time she is around her horrible arrogant uncle, she becomes much like him! Grant saves her bacon time and time again and she appreciates nothing.
The book is a goofy mix of French and English characters and customs. It supposedly takes place in France but the customs seem more English than French.
What a wonderfully woven tale
Reviewed in the United States on November 23, 2020
Fara had a tragic life, and yet she was stronger for it. Captain Grant rescues her one night and they are drawn to each other. Due to the era that they live, it was hard to have a relationship with someone outside your class and standing. These two wonderful characters not only bucked the system but had the relationship that they deserved. There are bumps during the journey, but what a journey it is. The characters were great and you wanted to cheer for them. The story line was great and I could not put it down. What a wonderful tale she told.

I received a free copy of this book via Booksprout and am voluntarily leaving a review.
TOP 1000 REVIEWER
VINE VOICE
A lovely historical romance.
Reviewed in the United States on November 22, 2020
You will find action, adventure, and a bit of romance in this wonderful Victorian tale. Grant Hill our ship captain of course is not suitable for a lady such as Fara Bellamont but tell the heart that because he is what she wants. This book has such a wonderful feel to it so well-written with the sense you are in the 1860s. I was completely engaged and found it hard to put down okay I will admit I had to finish it before I could get stuff done around the house but hey that is the joy of being retired. This is a book I highly recommend and this author is going to be someone I will be watching. I did receive a free copy of this book and voluntarily chose to review it.
Also, a few for Chasing Ginger are included below.
Oh, what a fun romance comedy this was! I love Ginger! As a larger woman, I can relate to her concerns but I, too, am a confident person about who I am. Taking a pill to fix all your problems. Hmmm, wouldn't that be nice! Fun and full of adventure! I really enjoyed reading this book! Look forward to more in the Misfits series!
A great chick-lit comedy for every romantic.
Reviewed in the United States on November 12, 2020 (on Goodreads too)
A romantic comedy with a difference. It is fast-paced setting allows you to enjoy the quirky moments while you get lost in the easy flow.
Chasing Ginger is a unique plot that begins with a mysterious pill that promises the most unbelievable things to any woman that feels neglected by Cupido.
When Ginger Halloway applied to the experiment, she had no idea how her life would change. Due to her, not so popular size, she had almost given up on the right man. But an impromptu meeting led to a ride in the limo which led to… no spoiler alert here.
If you are looking for a quick chick-lit read, then this is your book. The characters are flawed in a beautiful emphatic way which made it believable while the fun never stops when the Misfits steps in.
And the hunk? Well… heavy sigh – dreamy look.
Do I need to say more… use your imagination and get on the ride of InstaSin.
Chasing Ginger (The Misfits, #1)
by
Discontent with her non-existing love life and lacking confidence in her body image, Ginger decides to take part in a drug trial that claims the drug will make her irresistible to the opposite sex. Giddy with the prospects of finding romance, Ginger signs up for an online dating service. Overnight she receives an influx of online requests for a date from prospective boyfriends. Ginger decides on back-to-back speed dating to vet a handful of the potential suitors. Little did she know she would be chased by a lustful mob, which drops her into the arms of hunky rich guy who smells so delicious. Unsure if it is the effect of the wonder drug, Ginger has misgivings regarding the attention this dream guy is giving her.Marie Lavender writes a humorous meaningful story, in Chasing Ginger. I rarely laugh out loud when I read, I have a very selective humor, but I did find myself giggling at some of the scenes in Chasing Ginger. Marie's writing made everyday situations sound interesting. Whilst this is a humorous read, it also delivers a meaningful message of accepting ourselves for who we are and to take a leap of faith in our own abilities, like we so often do in others. A truly delightful read.
I give this book 4 stars
I received an ARC in exchange for an honest review.
Additionally, please visit our book launch party next week for the chance to win some great prizes!
And if you answer this short reader poll now, it would really help me and provide an idea of what format everyone prefers for the live Q&A session.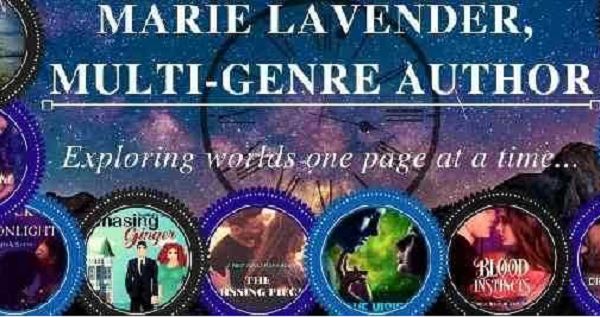 Would you rather...
Created with Survey Maker
Thanks so much, and do your best to stay safe these days in such chaotic times!
I love the movie 'The Princess Bride'! ;)

LOL! No, but seriously, I hope you take care of yourselves.
Have a great weekend! ♥