That's a wrap, I've finished my tenure at the Hospital and now I'm beginning a position, that I've dreamt about for a over a year. It was bittersweet leaving somewhere I considered my second home for years, but it was time for a change. The pandemic changed my outlook on things and "staying small", it was time for me to fly. When you look at the world through weary eyes and a mask that has become a second skin, it's an example of how much things have shifted.

When I finally decided to leave the hospital, it wasn't something that I took lightly. I was mentally drained to the point, where I didn't know if I was coming or going, and while there is no place to really lie blame, it was a personal choice to walk away. Seeking out a position that I felt would fit my skill set was next, two interviews later that happened. Weighing the pros and cons of taking an office job, was unknown to me. Would I be welcomed by the staff, and could I adjust to the new environment? So far so good, I have and even do well with the commute, because you must make sacrifices when you want more in life. My drive went from five to twenty minutes to get to work, give or take with traffic. That is something I can become accustomed to, and when the time comes, re adjust my living situation.
The things I've learned so far without even logging in myself, are skills I hope to improve on with time. The belief that my trainer had in me, gave me the confidence to talk myself through the mistakes I was making. While it's a lot of info to take on in one day, the notes I took will be used as refreshers for the future. The dynamic in an office is much different than the hustle and bustle of the hospital. We are just as busy but in a more interpersonal way. As I get used to the patients and their eyes (until I see their faces), the faxing and scanning, etc, I become more familiar with how it functions as a whole. The team of women I work with is great, especially my front co workers, they make the days fly by, during the busy and down times when we laugh. Since this office specifically comes highly recommended, I've found my place.
The awakening that began when I was still working at the hospital, does continue. Finding that I have more time for myself and the things I love most: yoga, runs and writing makes me happy. Not working weekends anymore is also a major plus, because I am able to spend time with my friends, go on adventures and catch on school work, without cramming them all into one day. Having a set schedule, and being able to still fill all of the obligations I have in each area of my life, is an absolute blessing. It's the little things in life you didn't realize you Needed the most .
It's also helped my mental health having that down time, I no longer feel as frustrated or overwhelmed. That's not to say that my anxiety doesn't still creep up every now and again still. Personally I don't think that even a million dollars could make that cease, it would just be a band aid on the problem that exist. Changing my lifestyle in general has lessened the symptoms though, and being a part of a positive environment. While I miss my friends and the familiar routines the hospital Brought, I needed to feel as though I have a career, not just a job. This was the last chance I was planning on taking to obtain a job in the medical aspect, before complete burnout happened. Being surrounded by mortality on a daily basis and being brought back to the light was something that needed to happen . To heal as a person completely, I needed to remove myself permanently, from what triggered me .
Going forward , I know that what I feel now is myself coming back more. I can honestly sit here and say I'm the happiest I've been in a very long time. I have a routine , sleep more at night and can laugh with a genuine smile, mask or not . I think that when you don't have to wear a "mask", it's when you give yourself permission to be the person you are meant to be. In life it's not about the roads you take, it's the path you follow to continue on . That and being more comfortable with yourself and your own company, if you don't enjoy that, you will never be the asset that others need. While California is still on my list, I think I've found another place to call home in the meanwhile. As I continue to step further out of my comfort zone, and more into the power I possess, I realize how blessed I am. We've survived a pandemic that brought the world to its knees, had COVID before I knew it was a thing, lost people in my life and changed my overall look at life.
As I lace my shoes to take my run, I always remember to take in the sights and sounds around me, through fresh eyes . Thirty mins of living in my head, and letting it go with every breath. Freeing myself from my own demons, fears and sometimes lack of understanding, is a work in progress. There is absolutely no expiration date on starting over, whether it's at 27 or 67, you can always expand on what you've known. We are often conditioned to believe that failure is final, it's quite the contrary. Failure is an act of trying, and should be accepted as taking the chance on ourselves. What we take away from that is the lesson, not to repeat that mistake multiple times. Remember that time you were a kid and fell off your bike? Falling into the bushes, getting scraped up and crying, but you kept trying. You tried because you didn't accept that as the final result, and that you could master it. The first time you were able to ride in a straight line and looked at your proud parent, you remember that too. The same smile on their face , was the toothless grin so wide. We master life in the same way, never losing focus on the grand plan and embracing everything thrown our way in the meantime. While we only get one life to live, it's the changes and dynamics that keep it interesting and flowing as deep as the oceans. Back to the child like innocence, that joy you felt in that moment, give yourself that at least once a week. I promise the love you give back to your weary soul, will come back tenfold. Enjoy nature and it's beauty, go hiking with friends, eat that bowl of ice cream, laugh so hard that your belly hurts, and most of all keep being you, it's an amazing feeling.
Take Care,
Taaury37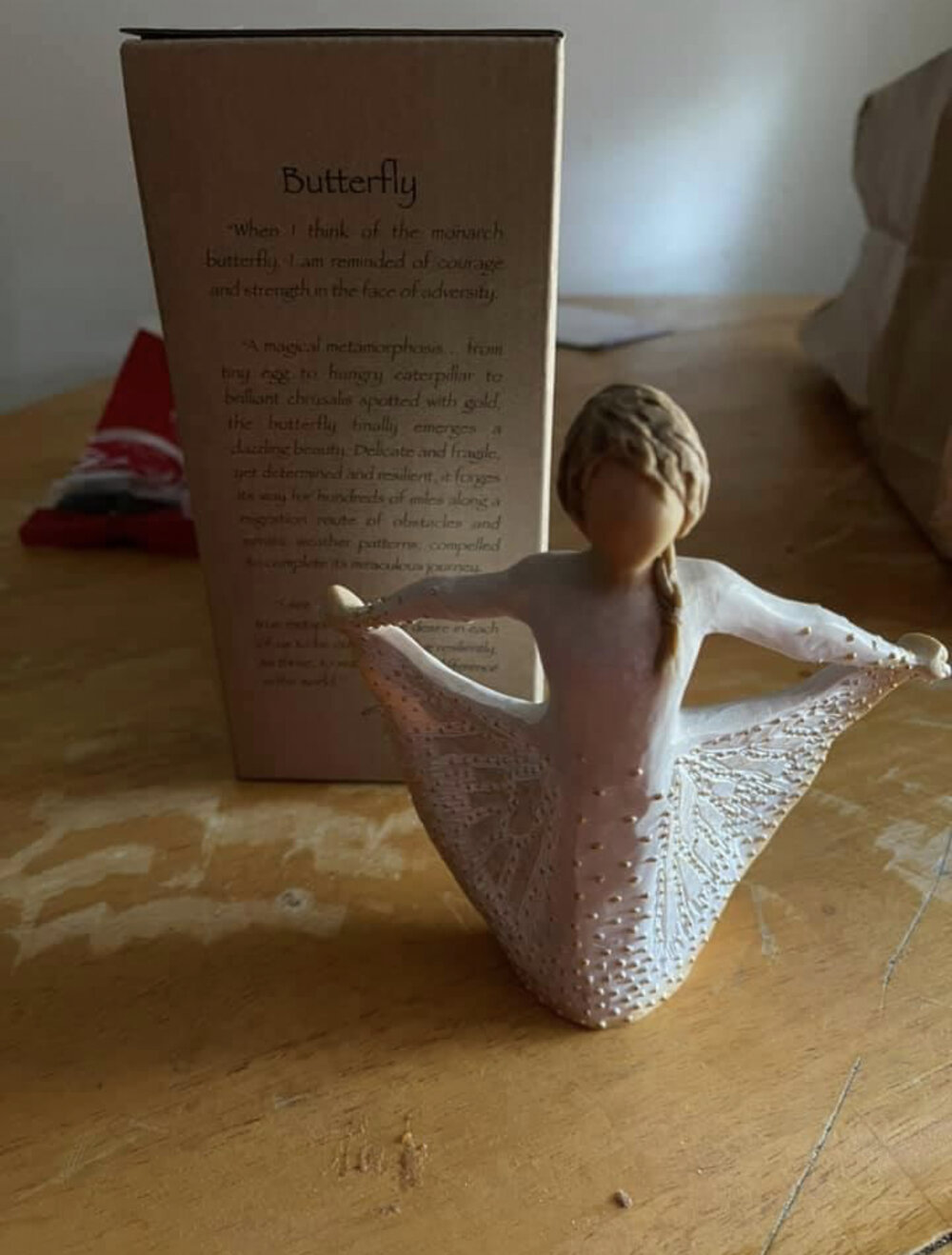 Some people come into your life, they are considered friends, etc. Others become family and Earth Angels, this was given to me by mine Dovie ❤️
Permalink