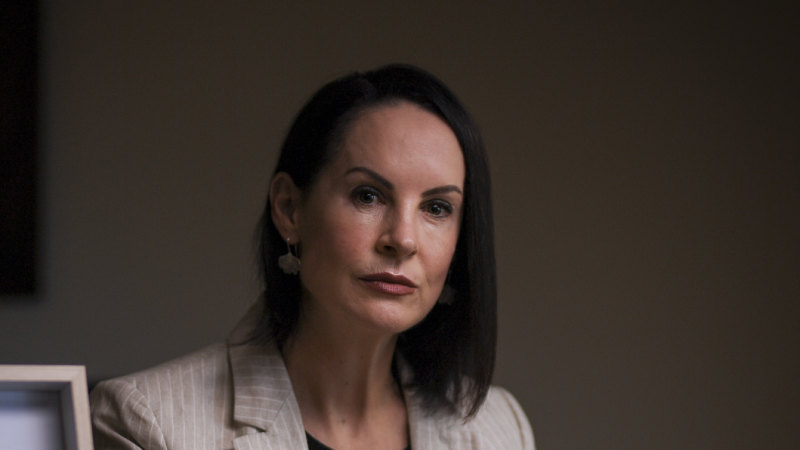 Penny Dennerstein's husband Ross died of a Sudden Cardiac Arrest a few years ago. Credit:Eddie Jim
The father-of-three's death in October 2016 was later deemed a Sudden Cardiac arrest – a form of heart attack that kills 25,000 Australians a year, including many otherwise fit and healthy young people.
The cause of his cardiac death was found to be a malfunction in the electrical system of his heart, which is not a genetically inherited condition.
It is hoped that a world-first genetic database set up in Melbourne will provide newfound insight into sudden Cardiac Arrest, by examining the blood samples of those under 50 who have died from this silent killer.
"We have more people in Australia dying of sudden cardiac arrest every year than the road toll," said leading cardiologist Associate Professor Andre La Gerche from the Baker Heart and Diabetes Institute in Melbourne. "Yet we still have such little understanding as to why this happens and how to prevent it."
Ross Dennerstein died of a sudden cardiac arrest in 2016.
Sudden cardiac arrest is a condition when the heart suddenly and unexpectedly stops beating. Research increasingly points to a strong heredity link. In up to one in three cases, a gene mutation is the likely cause.
"What the registry enables us to do is test people who have had an arrest or people who have died suddenly and look for a known gene," Professor La Gerche said.
"The bio-bank also allows us to look for new genes that may explain some of the other cases. Often there is what we call a single gene disorder, some are heart muscle and some are electrical disorders of the heart that are due to a problem in one gene which then gets passed on to other family members."
Clinics will run out of St Vincent's, The Alfred, Royal Melbourne and Royal Children's hospitals.
Victoria is the first in Australia to start collecting samples. New South Wales will follow in the coming months and it is hoped it will soon become a national initiative.
Once a gene mutation is found, researchers will collect specimens from surviving family members to look for signs of the disorder and hopefully help them avoid the same fate.
"We can potentially identify and treat people at serious risk before they even show symptoms," he said.
Preventative treatment includes pacemakers, heart defibrillators, medication and regular monitoring by specialists.
Ross Dennerstein died of a sudden cardiac arrest in 2016.
Men are more than three times more likely to suffer a sudden cardiac arrest than women but experts are yet to understand why.
Complicating the matter is that about half of those who experience sudden cardiac arrest have no prior symptoms, although some experience blackouts, fatigue, heart palpitations or chest pain.
Almost all of those who have a sudden cardiac arrest will die – between 85 and 90 per cent.
Loading
Following his death, Mr Dennerstein's family set up a trust in his name which was used to fund the registry.
"It was actually Ross's idea because he lost a colleague to a heart attack who was the same age as him six months before he died and he said at the time 'we have to do something about this'," Ms Dennerstein said.
"He was larger than life and always caring about everyone else. He would be so proud that he played a part in making this happen."
Ross Dennerstein pictured with his wife Penny and three children.
For more details, visit www.unexplainedcardiacdeath.com
Melissa Cunningham is The Age's health reporter.
Most Viewed in National
Loading
Source link
The post Newfound hope for heart condition that kills more Australians than road toll appeared first on Angle News.
This post first appeared on Angle News, please read the originial post: here