How to Write- How to Write Better
Here's something interesting Heather Sellers says in her book Chapter After Chapter:
"I fear a lot of people (myself included) stay Stuck in 'wanting.' We're on the verge of creative power, of hooking into a new energy source—a truly up-and-running book project is a great source of energy— but we linger, frozen kids on the high dive. Fear closes in, strangles us from making a move. We close tightly around the old self, the never-jumped-off-the-diving-board self. And we're all poorer for it."
She goes on to say that "being on the verge is usually the Scariest part. Scarier than climbing the ladder. Much, much scarier than when you walked-didn't-run to get in line for this great new experience—I am going to write a book!​​​​​​​ The scariest part is just before you jump."
So why not make the plunge and get the scariest part over with?
Recommended Resource…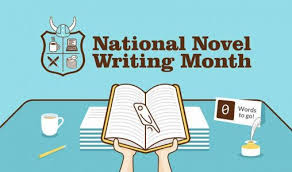 Image courtesy of NaNoWriMo
Nanowrimo
This is National Novel Writing Month (NANOWRIMO), so be sure to sign up at www.nanowrimo.org for free access to all sorts of great resources.
The post Don't Get Stuck on "Wanting" appeared first on How to Write- How to Write Better.