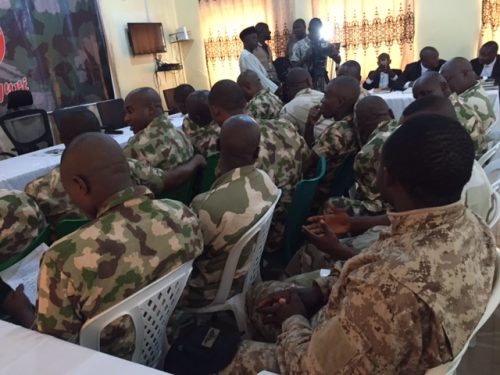 A Military General Court Marshal sitting in Maiduguri on Wednesday sentenced two soldiers to 23 years imprisonment each for unlawful possession of firearms.
The President of the Court Marshal, Lt.-Col. Adamu Hassan, who delivered the verdict said that the court had found the suspects guilty as charged and sentenced them under sections 27 (1) (A and B) (I and II) of the Firearms Act.
Hassan said that the court was convinced by the prosecution evidences presented against the suspects on the five-count charge, and therefore sentenced each of the convicts to 23 years imprisonment.
He added that the verdict would run consecutively.
The soldiers were arraigned in the court on a five-count of conspiracy and unlawful possession of firearms contrary to section 3 of the Fire Arms Act.
The Lead Prosecution Counsel, Lt Col Nkenah Nyaro, had earlier told the court that the convicts were apprehended while in possession of five empty-magazines of AK 47 rifle and 20, 136 rounds of 7.62 mm special ammunition.
Other charges were the unlawful possession of several rounds of NATO ammunition, two rounds of Brownie machine gun and conspiracy to steal.
The prosecution argued that the convicts, Trooper Eric Nwokere and Trooper M Fortune, were arrested while in possession of the ammunition at Jumputu Motor Park, Jimeta, Yola, while boarding a commercial vehicle to an unknown destination.
In his submission, the Defence Counsel, Mr S. M. Bala, pleaded for leniency, in view of the fact that the soldiers were never convicted before.
"The suspects spent 16 months in detention. We pray for prescription of fine or demotion as against imprisonment," Bala said.
Delivering the verdict, the President of the Court, noted that the decision of the court was arrived at, after the close of submissions by both the prosecution and defence counsels.
"The prosecution has proven the case beyond reasonable doubt in line with the burden of proof on the prosecutor to prove all criminal case beyond reasonable doubt.
"It is a very touchy litigation. There is the need to ensure sanity, discipline and security of our dear country especially as the counter-insurgency war continues," the president said.
Meanwhile, the court has convicted and sentenced another soldier, Cpl Garba Saidu, to 10 years imprisonment for unlawful possession of ammunition.
The soldier was arraigned in the court on two counts of illegal possession of 2, 800 rounds of 7.2mm (Special) ammunition.
He was arrested after the discovery of the ammunition hidden in a poultry farm in Maiduguri metropolis.
He was sentenced to 10 years imprisonment on the two charges.
The 7 Division General Court Marshal was inaugurated to try misconduct committed by officers and men fighting insurgency in the North-East.
(NAN)