INTRODUCTION
TRAFFIC, WHERE ART THOU?
Welcome to a guide on the different types of website traffic and how to gain more visitors. I understand that feeling. After spending so much time working on a spanking new site, there is nobody visiting it. What do we do? How can we get more pairs of eyes on the website?
The easiest way to get Traffic is to throw swats of cash into paid advertising. While that may work in the short term, but it is not good in the long run. So this is where this guide comes in, to explain the various types of website traffic, and some shameless self-promotion methods that you can use to get traffic – for free.
CONFESSION
AN HONEST DISCLOSURE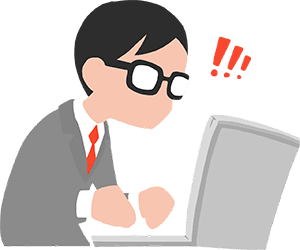 Quick, hide your wallets! I am an affiliate partner of Google, eBay, Adobe, Bluehost, Clickbank, and more. There are affiliate links and advertisements on throughout this website. Whenever you buy things from the evil links that I recommend, I will make a commission.
Nah. These are just things to keep the blog going, and allows me to give more good stuff to you guys - for free. So thank you if you decide to pick up my recommendations!
NAVIGATION
TABLE OF CONTENTS
Section A
Direct Traffic

Section B
Social Traffic

Section C
Referral Traffic

Section D
Organic Traffic

Section E
Email Traffic

Section F
Paid Traffic

Section G
Uncategorized Traffic

Section H
Junk Traffic

Closing
The Force
SECTION A
DIRECT TRAFFIC

Direct traffic results from people visiting your website by directly entering the website address into their web browsers. This is one of the hardest sources of traffic to gain, as it involves entering your website address – It is even harder if your URL is hard to remember… So yep, choosing a good name and address is vital.
WORD OF MOUTH
Difficulty :

The good old school method. Let your family and friends know of your website, and ask them to visit. Spread the word, and who knows how far it will go.
FREE ADVERTISING
Difficulty :

If you are running a business website, this should be pretty easy. You can just register your website with free listings and get plenty of free advertising opportunities. Two of the usual suspects are Yelp and Craigslist.
GIVING AWAY BUSINESS CARDS
Difficulty :

This is not exactly a free method, but can still be pretty cheap. Design and print some business cards, give them to friends and people who might be interested. Another interesting way to distribute your cards is to put them into related library books. For example, if you are a doctor, you can try putting name cards into medical related books in the library.
PAYING FOR ADVERTISEMENTS
Difficulty :

Hard copy newspapers and magazines are not dead. If you are willing to pay, create an advertisement, and sponsor an advertisement in newspapers and/or magazines.
FACEBOOK
Difficulty :

Who does not know Facebook? What you need to do, is to create a Facebook page, and join a few groups related to your website's niche. Share your posts to the groups, and watch the traffic go. But remember – do not spam. Do not piss off the admins of groups.
GOOGLE PLUS
Difficulty :

Big brother Google has their own social media platform. Yes, they do. It is called Google+, and strangely, not the entire world know about it. While it may not be the most popular, it is still a very good platform to tap into. The usual tactic applies – create a new page for your website/business, start posting and share in communities. Do not spam though.
REDDIT
Difficulty :

Reddit is a powerful platform if you know how to tap into it. Subscribe to subreddits and share your posts. Beware though, Reddit has become a community that hates random posts, and you might need to do some "warming up" with the community first. Oh. Watch out for the trolls too. Don't feed them.
TWITTER
Difficulty :

Twitter is another platform that should not be ignored. Go get yourself a Twitter account, and start tweeting.
PINTEREST
Difficulty :

Pinterest is an interesting place. It is a very graphical social sharing platform, and if you want to win over Pinterest, post a lot of good pictures and infographics.
LINKEDIN
Difficulty :

LinkedIn is a social media platform that targets professionals. A good place to source for the more serious crowd.
STUMBLEUPON
Difficulty :

StumbleUpon is a platform that recommends content, by users for users. Simply add your page in and assign an interest.
SECTION C
REFERRAL TRAFFIC

Referral traffic is traffic that came from a link on another website. You can probably wait for other people to build such links for you, but the more productive way is to build some of them by ourselves.
SCOOP.IT
Difficulty :

Scoop.it is probably one of the easiest places to get you backlinks and referral traffic. Simply start your own topic, and share your posts. But no spamming, no adult, gambling, and drugs related contents are allowed.
FLIPBOARD
Difficulty :

Flipboard is similar to Scoop.it, and it's more "magazine oriented". Nothing too different though, start your magazine and share your posts.
FORUM POSTING
Difficulty :

The age-old method. Put a link back to your website in your signature, and start posting. This method is sort of getting more difficult as forums are slowly dying out, and fewer forums actually allow you to put a link in the signature now.
GUEST POSTING
Difficulty :

Another age-old method, and a pain to do. If you are interested, look for "blogs that accept guest posts" on Google, and try to write some guest posts for those blogs. As you might have guessed, there are way too many bloggers today, and guest blogging will only accept very high-quality posts. Still worth a shot though, if you are trying to write for very popular sites.
ANSWERING QUESTIONS
Difficulty :

One of my favorite methods. Find questions on Quora and Yahoo Answers, and answer them. Leave a link in your profile, and traffic will slowly build over time as you answer more questions.
COMMENT ON BLOGS
Difficulty :

Yet another old school method. Simply find blogs, and comment on them. Make sure that you have a link back to your own website in the profile. You can find blogs that accept comments with Drop My Link.
SHARE SLIDES AND PDF
Difficulty :

Already have a great article? Why not make full use of it? Compress it into slides, make a PDF and distribute it… just remember to add a link back to your own website within. I usually haunt LinkedIn Slide Share and Issuu to distribute the slides.
POST A VIDEO
Difficulty :

If you are not camera shy, take a short video to supplement your post. Post it on YouTube, and maybe on a semi-regular basis as well. As you build up a following, a constant stream of traffic will start going to your website.
SECTION D
ORGANIC TRAFFIC

Difficulty :

Organic traffic comes from search engines, that is people finding your website while searching for certain stuff on Google, Bing, Yahoo, Yandex, or other search engines. This is one rather challenging source of traffic to get. Which, in the first place, you will need to gain the trust of search engines and show up in the search results.
In short, you have to do something called search engine optimization (SEO), which you might have heard of already. Free organic traffic is slow to earn, but once you start the ball rolling, it will probably never stop.
WRITING GOOD CONTENT
What does good content have to do with organic traffic? Because people tend to read and share contents that they think it is good – and when people share it, you get even more free visitors. Search engines are also kind of smart enough to pick up the buzz around your article and give you better search rankings… Bringing you yet even more traffic.
SHARE IT, POST IT
Yes, it's weird. We need traffic to attract more traffic. In general, we want social signals and backlinks. With these, your article should slowly move up the ranking ladder, and eventually, you will get organic traffic.
SECTION E
EMAIL TRAFFIC

Traffic that comes from a link to your website in emails. This is one of the most traditional sources of traffic, and one of the more difficult ones to get. I mean, how the heck do you even get your website into that many emails for free?
EMAIL ALL YOUR FRIENDS
Difficulty :

The simplest method, especially when you have a lot of overseas friends. Well, if your friends don't mind, that is. No harm letting them know that you have a website, and need some help with it.
FREE EMAIL LISTS
Difficulty :

I am personally not a fan of this method. There are plenty of free email lists online, such as Free SafeList Mailer and Instant List Generator. But as you guessed it, they are email exchanges and you will get a lot of junk mail. You will not get good quality traffic out of these, but at least it's free.
START A NEWSLETTER
Difficulty :

The preferred method and that is to start a free newsletter on your website for people to subscribe to. But be warned, newsletters need to be maintained regularly, or the interests of your subscribers might go cold.
SECTION F
PAID TRAFFIC
As you already know, paid traffic comes from advertisements and sponsored posts that you pay for. This is good if you actually have money to spare, and you have a good business plan that can actually profit from paid traffic.
PAID SEARCH
Difficulty :

Ever notice that when you do a search you get results marked with "ads" on top? You can do the same and place ads with Google AdWords and Bing Ads.
SPONSORED POSTS
Difficulty :

Similarly on Facebook, Instagram, and Twitter – You will notice some sponsored posts when you scroll through your timeline. You can create your own sponsored posts on their respective ads platform.
VIDEO ADS
Difficulty :

This is slightly more difficult than the rest, as you have to create a video first. Then you can put it up as an advertisement on YouTube ads and/or DailyMotion.
SECTION G
UNCATEGORIZED TRAFFIC

These are a few oddball traffic methods that don't seem to fit anywhere. One thing to note though, I have not tried all of these methods. I just happened to stumble on a few of these and try it at your own risk.
FROM WEBSITE TO CHROME STORE
Difficulty:?
Do you know the Google browser called Chrome? Do you know that there is a Chrome store dedicated to its plugins? The even more unknown part – do you know that you can add your website to the Chrome store. It's not free though. I have not tried this method, and I do not know if it even works. I guess you will have to try this to find out for yourself.
SOCIAL EXCHANGE
Difficulty :

What is social exchange? It is simply sharing someone else's post, and someone else will share yours. You visit someone's page, and someone visits yours. I am usually not a huge fan of exchange programs… as they are pretty low quality and low on interest. But the only legit program that I found is Viral Content Bee – Worth to check it out if you are interested.
HELP A REPORTER OUT (HARO)
Difficulty :

HARO is a program where reporters seek out some help with their scoop from the public. Well, who knows? You might get lucky and have your website featured on the news.
SECTION H
JUNK TRAFFIC

I guess we can define junk traffic as the "useless hogs" who visit your website – They are probably automated scripts, bots, or just uninterested people. Junk traffic is undesirable, as they do not have a genuine interest, and only serve to waste your server resources.
FREE TRAFFIC EXCHANGE
There are plenty of these traffic exchange programs, such as Hit4Hit and HitLeap. How it works, is that you visit someone else's website, and they will visit yours. The huge problem with these traffic exchange is that it is automated, and people have no genuine interest. You can just leave the window on and go do something else.
This defeats the entire purpose. You will get a lot of traffic from the exchange, but so what? There is no human interaction. No sales, no social likes, shares, and no interest what-so-ever. Don't waste your time on these.
BUYING TRAFFIC FROM FIVERR
For those who are not aware, there is this website called Fiverr, where you can buy services for just $5. Among those are shady deals like "unlimited real human traffic for 6 months". Well, no shame in confession – I have tried those out of curiosity before. Did it work? Yep. Traffic came in, but that did absolutely nothing to my website.
No sales, no social likes, and shares, nothing. So much for the "real human traffic", which should be "real traffic generated by a human using fake traffic software". Don't waste your money on those, it really does nothing more than wasting your bandwidth.
CLOSING
MAY THE FORCE BE WITH YOU

So we have come to the end of this guide, and I hope that this list of traffic sources is good enough for you to get started. While one traffic source may not seem much, you will get a tsunami as you stack all of them up. Good luck with your website and may the force be with you.
Previous: Free Infographic Makers Next: Free Organic Traffic
The post 8 Types of Website Traffic (And How To Gain More Visitors) appeared first on Red Dot Geek.