First of all, I need to apologize to my readers. I know that I haven't updated my blog for about a year. I was preparing for the college entrance examinations. Now that I have been accepted to the university that I wanted. I can get back to my passion of writing/blogging.
Today, I will introduce Dr.
Martens
1460
. The classic ones. The 1460 is the original Dr. Martens boots. The boot's recognizable features are as follow: 8 eyes, classic Dr. Martens Smooth leather, grooved sides, a heel-loop, yellow stitching, and a comfortable, air-cushioned sole. You can see these boots worn by many celebrities. Such as, Kaia Gerber, Ou-yang Nana, Gigi Hadid, and so forth. I, myself, always wanted to have one boots of Dr. Martens. Nevertheless, I finally bought some in April. So, I will share with you guys my experiences and how to style them.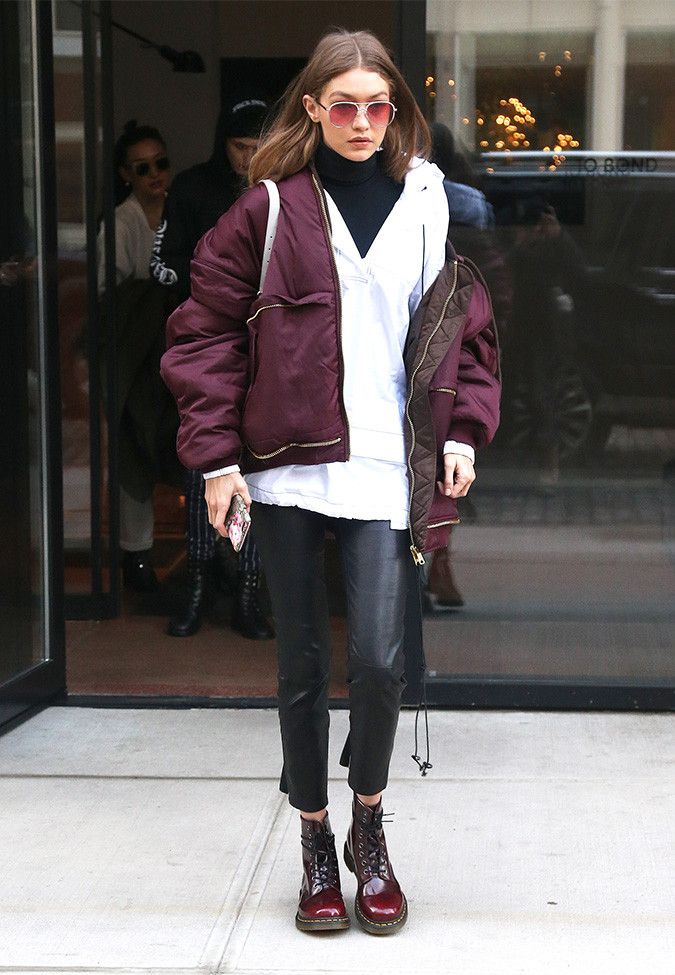 I personally really like to wear boots. No matter how hot it is. Some of you may say that wearing flat shoes or flip flop is more convenient. However, in my opinion, wearing boots is safer and more stylish instead of wearing those shoes. Many of my friends asked me about how to style the boots because they think it is super difficult to match the clothing. Today, I will show you how to style it perfectly and also look like a super model.
1. Denim jackets + jeans + white tops
Denim jackets from Zara +
Calvin Klein
jeans + white top + hat from Zara
2. white tops + sweatpants
Sweatpants from Puma + white top
3. Dresses ( Can go over your knees)
Dress from Benetton
Dress from Benetton
Dress from Calvin Klein + black top from Ralph Lauren
Dress from Calvin Klein + black top from Ralph Lauren
4. Whits T-shirts + Denim shorts
Jeans from Gap + white top + Gucci Belt
jeans from Gap + white top + Gucci belt + denim jacket from Zara
5. Leather Jackets + black trousers ( I can't find my leather jacket...,so I pick this photo on the Internet. )
6. Last but not least, necklace, hats, sunglasses......are your best friends. They can make you look more exquisite. Don't forget to make good use of them.
Let's talk about my very first experience. Only one word can describe it- Ouch! They really hurt. Although the saleswomen has already warned me that I need to wear
stockings in the beginning. Actually I did, but I can still feel my rear heel and the shoes lining rubbing against each other. However, I think it is normal. Every pair of shoes need some time to get used to our feet. After several times, i can wear them comfortably. Oh! I almost forgot! If you also bought the 1460 with 8 eyes, please, only use 6 eyes for the first few times you wear them. Your feet can fit into the boots more easily.
I hope that you like my new article. Don't forget to subscribe my Instagram and blog. Keep following me and get the latest trends and style looks.