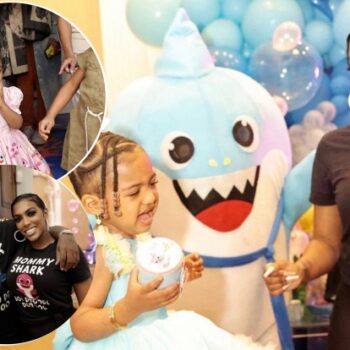 Porsha Williams and Dennis Mckinley's daughter, Pilar Jhena "PJ" McKinley, enjoyed a "Baby Shark" themed party for her second birthday. Keep going to see the pictures!
View this post on Instagram
Porsha shared photos from her daughter's second birthday with her Instagram fans over the weekend. The Real Housewives of Atlanta (RHOA) star was sure to highlight her baby girl's "Baby Shark" dress, which was custom-made by Ada Aziza.
"My baby was so surprised that Baby Shark was at her party," Porsha said of the festivities. "Pilar's World," the celebrity mom hashtagged.
View this post on Instagram
The look of shock was evident in a series of candids that showed Pilar holding her hands up while looking at the "Baby Shark" mascots hired especially for her party. The characters surprised the youngster at her doorstep, which was nothing short of a precious moment.
"This is a whole meme," Porsha's sister, Lauren Williams, wrote in response to the series of candids, which showed Pilar's reaction to the "Baby Shark" mascots, Porsha shared. "This was so cute," Lauren added. Yandy Smith, who attended the bash with her daughter, wrote, "It was the best."
View this post on Instagram
Pilar Jhena celebrated her second birthday on March 22, 2021. The youngster's mother took to Instagram days before her daughter's special day to reflect on her life as a mom.
"I gave birth to my lil lifesaver @pilarjhena almost 2 years ago March 22nd," Porsha told her social media fans. "I still wake up in amazement that I was given such a miracle," the RHOA star added. Williams went on to tell her daughter, "You taught me that I'm beyond unbreakable and my faith in God and love for you can carry me through anything. We women are powerful and we can do anything we set our mind to."
View this post on Instagram
Pilar Jhena "PJ" McKinley is Porsha Williams' daughter with businessman Dennis McKinley. She is the former couple's only child.
Photo: Will Sterling/Instagram
The post PORSHA WILLIAMS SHARES PICTURES FROM DAUGHTER'S 'BABY SHARK' BIRTHDAY PARTY appeared first on BCK Online.