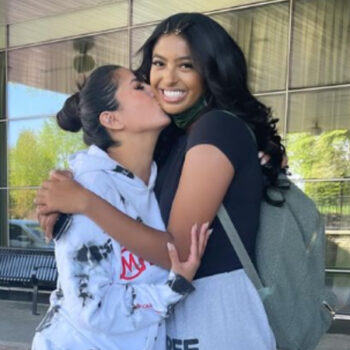 Vanessa Bryant and her oldest daughter, Natalia Bryant, honored Kobe Bryant at the Naismith Memorial Basketball Hall of Fame ceremony on Saturday (May 15) in Springfield, Massachusetts. Kobe was inducted into the 2020 Hall of Fame class. Natalia wore her father's jacket the day before the event and sent positive vibes while at her prom dance on Sunday (May 16).
View this post on Instagram
Natalia came to Springfield to accept her father's Hall of Fame jacket the day before the ceremony. The teen did a turnaround trip as she had to fly back to Los Angeles to attend her prom on Sunday. Ciara and her husband, Russell Wilson, ensured Natalia had the support she needed to make her prom night special.
"Natalia almost missed her senior prom last night," Vanessa Bryant told her social media fans on Monday (May 17). "When I was a senior in high school, Kobe and I were engaged and he had a playoff game the night of my prom. Kobe didn't want me going to prom without him and I didn't want to go without him," the celebrity said of her prom season experience.
View this post on Instagram
"When we heard Natalia's prom night and Kobe's Hall of Fame night was on the same night, I looked at Natalia and said, 'Well, if it's any consolation, daddy kept me from going to my prom, so it's only right that he tried to keep you from going to yours,'" the celebrity mom mused. "Of course, we laughed because even in heaven, he's still trying to make moves and keep the boys away," Vanessa further joked.
"Natalia's experienced so much loss, I couldn't let her miss out on her once-in-a-lifetime opportunity to go to her senior prom," the celebrity mom said in all seriousness. "Thank you for flying out to accept daddy's Hall of Fame jacket and fly home the next morning," Vanessa wrote to her daughter.
View this post on Instagram
Kobe Bryant was inducted into the Naismith Memorial Basketball Hall of Fame on Sunday. Vanessa Bryant gave a heartfelt speech in the late NBA star's honor at the ceremony.
"I wish my husband was here to accept this incredible award," Vanessa told attendees. "He and Gigi deserve to be here to witness this," she added. "Gigi would be so proud to watch her daddy get enshrined in the Basketball Hall of Fame. I know Kobe was looking forward to being here."
View this post on Instagram
Kobe Bryant was killed alongside his daughter, Gianna "GiGi" Bryant, in a helicopter crash on Sunday, January 26, 2020. The retired Los Angeles Lakers player was headed to a basketball game at his Mamba Sports Foundation in Thousand Oaks. Vanessa changed the name of the facility to the Mamba and Mambacita Sports Foundation after Kobe and Gianna's untimely passing to honor the basketball legend and their daughter, who was following in her father's footsteps.
View this post on Instagram
Vanessa Bryant has four kids – Gianna, Natalia, Capri, and Bianka – with her late husband. Natalia is the oldest.
Photo: Natalia Bryant/Instagram
The post KOBE BRYANT'S DAUGHTER, NATALIA BRYANT, MISSED HIS HALL OF FAME INDUCTION TO ATTEND PROM appeared first on BCK Online.