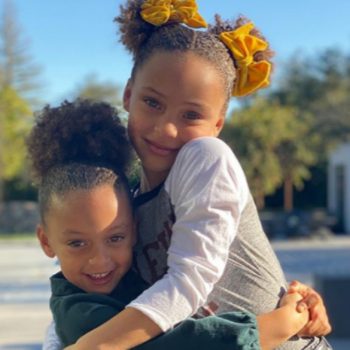 Ryan and Riley Curry are moods that you do not want to ignore. Ayesha Curry recently shared pictures and video footage of her and husband Stephen Curry's daughters that were nothing short of fierce.
View this post on Instagram

And last but not least my 2020 mood. Ryan is ALWAYS a vibe.
"My 2020 mood," Ayesha said of her youngest daughter after sharing a candid of Ryan giving fans two peace signs. "Ryan is ALWAYS a vibe," Mrs. Curry said.
The celebrity mom also uploaded a video clip of her oldest daughter, Riley. The youngster was completely prepared to show off her fashion sense, which included Retro along with touches of other styles. "Can she dress me," one fan asked. It would be cool to see Riley Curry, the stylist, wouldn't it?
View this post on Instagram

… and then this happened. .
Ayesha Curry is an amazing role model for her daughters. The celebrity mom has a home goods brand, called Homemade, along with a cooking show, Food Wars, that is nothing short of fascinating. Ayesha Curry recently spoke on the notion of work-life balance during an interview with Refinery29.
"I always say that I truly don't believe that balance exists," the celebrity mom said. "There are moments where you feel like you just want to quit. I have three kids, and my son is just 10 months old, so sometimes I'm like, I just don't want to do this today. But then you press forward, and you realize it's a moment and then something great happens in business and you just want to keep trucking along. It's acknowledging these moments — letting the bad moments pass and realizing the bigger picture."
View this post on Instagram

My girls . Love being their mama even though they've made me lose a lil hair here and there LOL. @stephencurry30 we're in trubbbbbs.
Ayesha Curry and Steph Curry have three kids together. Stay tuned for more celebrity family news!
Photo: Ayesha Curry/Instagram
The post AYESHA CURRY AND STEPHEN CURRY'S KIDS ARE A MOOD appeared first on BCK Online.