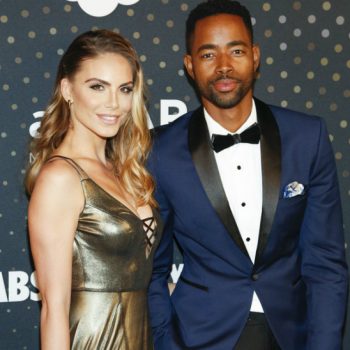 Insecure Star Jay Ellis and his soon-to-be wife, model and actress Nina Senicar, are proud new parents to a baby girl!
On Tuesday, Senicar announced that the baby arrived on Friday, November 8.
"And just like that our lives got a whole new meaning," she wrote as the caption to a photo of the couple's hands holding on to their baby's legs. "Welcome Nora Grace Ellis

8.11.2019."
View this post on Instagram
Ellis also took to his Instagram to share the same image as his fiancée. He simply captioned the snap with a blue heart emoji.
Senicar and Jay have been dating since 2015, and reportedly tied the knot this summer in a ceremony in Italy. The duo are very private so no one knows for sure if they are indeed married.
In a past interview with The Breakfast club, Jay explained why he has kept his relationship under wraps. "I think for me, we give so much of ourselves in what we do no matter what side of the industry we're on so for me, a relationship for me is probably the most important thing that I think two people can have."
He added: "I'm in a very happy relationship and that's where I leave it. I don't really worry about anything else and that's it."
The post Insecure Star Jay ELLIS AND SOON-TO-BE WIFE, NINA SENICAR, WELCOME THEIR BABY GIRL! appeared first on BCK Online.