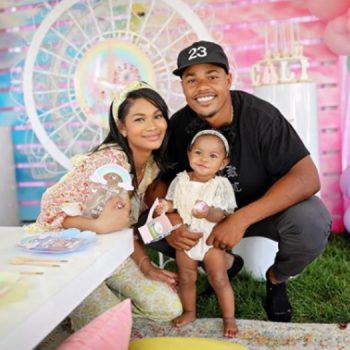 Happy Birthday, Cali Shepard! Chanel Iman and Sterling Shepard's daughter celebrated her first birthday this past weekend. The celebrity parents were sure to give their daughter a party fit for a princess.
View this post on Instagram

Thank you all for all the birthday wishes and everyone who came to celebrate with us
"Happy Birthday to our firstborn, @caliclayshepard," Chanel wrote online. "You are celebrated every day," the celebrity mom concluded.
Sterling Shepard also wrote a birthday message to his daughter this past weekend. "Wow, time flies," the star athlete shared. "Happy first birthday to my lil mama," Sterling wrote. Thousands loved the birthday message and picture series that the celebrity father shared on social media. "She's adorable," one of Sterling's followers said. Another Instagram fan wrote, "Beautiful family! Happy Birthday little one!"
View this post on Instagram

Wow time flies! Happy first birthday to my lil mama @caliclayshepard
Chanel Iman and Sterling Shepard welcomed their daughter last year after surprising fans with the announcement of their family's expansion months earlier. Chanel revealed her daughter's love for fashion during a recent interview with Harper's Bazaar Kazakhstan.
View this post on Instagram

Happy birthday @caliclayshepard Mommy loves you @pattyothonphotography @kbellesdesign @babyblissprops
"She's been to a fashion show, and we got some really cool things coming up for her," Iman shared. "People have been calling left and right for her and I'm like, 'Dang, she's getting more bookings than me,'" the celebrity mom mused. "She's just a happy baby, so it's easy for people to fall in love with her."
View this post on Instagram

Babychella
Will we see Cali Shepard in the modeling sector soon? We'll have to keep watching the celebrities' kid to see how things develop. Stay tuned for more celebrity family news!
Photos: Pattyothon Photography
The post CHANEL IMAN AND STERLING SHEPARD CELEBRATE THEIR DAUGHTER'S FIRST BIRTHDAY appeared first on BCK Online.