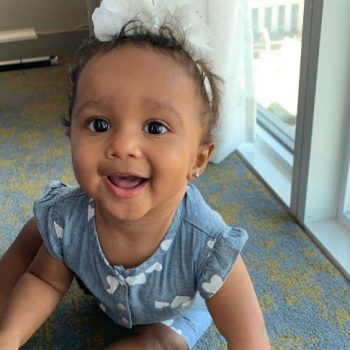 RHOA star Kenya Moore's daughter, Brooklyn Daly, has the gymnastic edge. The celebrity mom shared footage of her daughter at practice this past weekend.
In the clip, Brooklyn stands tall and balances quite well while being held by one of the instructors. What makes the act so special is the fact that the instructor holds Brooklyn's feet in one hand. Still, even with limited support, Kenya's baby proves herself a champion.
View this post on Instagram

#fearless #miraclebaby
"Fearless, miracle baby," the post's hashtags read. Many agreed with Kenya that baby Brooklyn was quite brave. "Kenya, you sound so happy," one fan said. "Just loving it." Another of Kenya's social media followers wrote, "Wow, [Brooklyn's] growing fast so cute! I am glad Kenta is back [on Real Housewives of Atlanta]," the fan added. "Hope they'll give h*ll to NeNe. She is too (sic) shady spoil trouble maker."
View this post on Instagram

Morning giggles from @thebrooklyndaly Was a very hard night for me and to wake up to this makes my life make sense. Mother+Daughter
Kenya Moore confirmed her return to RHOA for the show's upcoming season a few weeks back. The news came after months of speculation that the Queen of Shade would return and a playdate between Brooklyn and Pilar Jhena, who is Porsha Williams' daughter, that practically sealed the deal. Porsha hinted to fans that a sign of Kenya's return for the upcoming season would be a peach. Such is the reason why many rejoiced at the sight of Brooklyn and Pilar getting together.
View this post on Instagram

#happybaby #miraclebaby
Fans also complimented both Kenya and Porsha on their growth. Many remember the rift between the two Reality TV stars and found it quite refreshing to see the moms' new bond on display.
BCK Asks: Porsha Williams has promised her fans a reformed Kenya Moore who still has a bit of her old spice. What do you expect to see from these Reality TV stars and new moms in the upcoming season of Real Housewives of Atlanta?
Photo: Brooklyn Daly/Instagram
The post 'RHOA' STAR KENYA MOORE'S BABY, BROOKLYN DALY, IS A BUDDING GYMNAST appeared first on BCK Online.