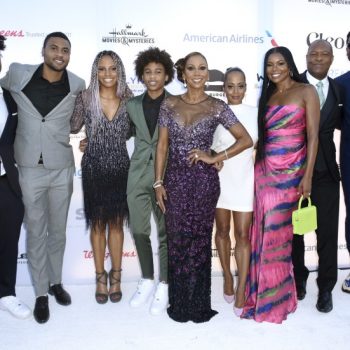 Holly Robinson Peete and her family embraced the spirit of charity as their foundation, HollyRod, raised nearly $1 million for their nonprofit's cause at the HollyRod Foundation's 21st DesignCare Gala.
View this post on Instagram

Backstage at #DesignCare2019 on Saturday night. Shout out to this crew right here! I love you guys so much! You guys do so much to make our @hollyrodfdn gala happen… you walk the runway, you work the room, you talk to everyone you take pictures you spread Message of compassion for families impacted by #autism and #Parkinsons. You killed it on Saturday! I am overwhelmed with love for all four of you!Thank you to my fabulous team who made my kiddos look so : @adamchristophermakeup @valabronharrell @marteebriannstyle @pamellaroland by @antwonmaxwellphotography
The HollyRod Foundation has spread awareness about autism as well as Parkinson's Disease. Holly Robinson Peete and her husband, Rodney Peete Sr., know all too well about the realities of both conditions as their son, RJ, lives with autism and Holly's father passed away of the disease in 2002. The public learned that Holly's brother, Matt, also lived with Parkinson's during an episode of the family's show, For Peete's Sake, in 2017. The scene was quite heartbreaking as Robinson, Rod and Holly's younger son, learned of his Uncle Matt's battle.
View this post on Instagram

When your gala is done and the night is won!!!! #Youjustgottashimmy #designcare2019 @hollyrodfdn Hair @valabronharrell styled by @marteebriannstyle makeup @adamchristophermakeup jewelry @xivkarats dress @pamellaroland boomerang by @antwonmaxwellphotography
It is because of Holly Robinson Peete and Rodney Peete's experiences with Parkinson's and autism that they fight to spread awareness and lend support to family members through their organization. As the HollyRod Foundation's website states,
"The HollyRod Foundation is dedicated to providing compassionate care to those living with autism and Parkinson's disease. We seek to fill an unmet need by providing compassionate care and services to underserved individuals and families that are burdened financially and emotionally by a diagnosis. We strive to help individuals live the best life possible."
View this post on Instagram

Welp another #DesignCare in the books Benefiting @hollyrodfdn ! That's 21 of them! 21!!!Exhausted but full. Grateful my daughter @ryanepeete flew in to celebrate with us from New York. Grateful for the moments of magic last night. I don't have words to express what it means when my friends and compassionate corporations volunteers and donors show up to support something so important to so many! It's HARD work. We raised tha ROOF in Malibu last night! Annnnd raised close to 700k!!!!!!! Thank you to ALL! #WordUp #autism #parkinsonsdisease
Gabrielle Union, Eva Longoria, Tina Lawson, Vanessa Williams, and Areva Martin were three of many celebrities to support the HollyRod Foundation at its annual DesignCare Gala. The event garnered upwards of $700,000 in financial support. You can learn more about the HollyRod Foundation here.
Photo: Getty Images
The post HOLLY ROBINSON PEETE AND FAMILY RAISE $700,000 FOR CHARITY appeared first on BCK Online.