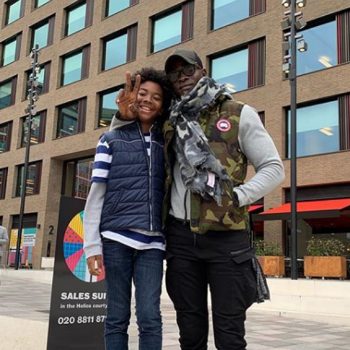 Kimora Lee Simmons is not keeping Kenzo Hounsou away from his father, Djimon Hounsou. Sources close to the fashion mogul reveal that Djimon is not making much of an effort to spend quality time with his son.
According to TMZ,
"Kimora has an open door policy when it comes to visitation. We're told she encourages the whole fam coming together as often as possible — holidays, birthdays, etc. — but Djimon hardly ever takes her up on it."
View this post on Instagram

To my hubbs, TL, Happy Happy Father's Day! Thank you for being the backbone of our family and holding us down through thick and thin! No rain checks, no honorable mentions, you put in the WORK! Thank you for supporting all of our kids equally and loving us unconditionally REGARDLESS OF EVERYTHING!! You're the absolute best, our rock and our foundation NOTHING COMPARES TO YOU! and happy Father's Day to all the dads out there who do a great job and step in, step up and do what they have to do! We love you for it!
Djimon aired his frustrations about his strained relationship with Kenzo this past Monday (June 17) during an impromptu interview with the press. The actor seemed especially angry about not being able to spend Father's Day with his son. "It would have been nice to see my son for Father's Day," Hounsou shared. "It would have also been nice to have seen him so I could at least talk to him."
The celebrity father went on to tell media that he hasn't seen his son in a while. "I can't even recall myself," Djimon said when asked to estimate how long it had been since he and Kenzo had quality father-son time. "There's no custody battle," the actor reassured. "I'm not at the lawyer's office, am I?"
View this post on Instagram

#happyFathersDay to all fathers #KLH
Hounsou did not have a message for Kimora Lee Simmons. He did, however, thank the press for wishing him well on his journey to reconnecting with his son.
Kenzo is Djimon Hounsou's only child with Kimora Lee Simmons. Stay tuned for more celebrity father news!
Photo: Djimon Hounsou/Instagram
The post KIMORA LEE SIMMONS' CAMP SAYS DJIMON HOUNSOU IS LYING ABOUT BEING KEPT AWAY FROM HIS SON appeared first on BCK Online.