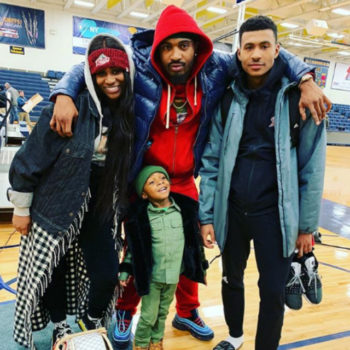 Where is Bonnie Bella? Stevie J often posts photos of his six kids on his social media pages, but fans have noticed that in recent months, he hasn't posted photos of his daughter with Joseline Hernandez.
Stevie recently shared a video clip of his daughter, Eva Giselle, in which the youngster was sitting at the table with her friends. Stevie went around the table to show off Eva and her friends. The girls took time to smile and wave at the camera while chowing down on a bit of breakfast. "Great way to start my day," Stevie said.
View this post on Instagram

Breakfast with @iamevagiselle & the gang! Great wait to start my day. God is great! #DaJordans
The celebrity father also shared pictures of his older children hanging out with him and his wife, Faith Evans. "They growing up," Stevie exclaimed. "My loves," the star father added.
View this post on Instagram

My loves. #DaJordans
Many fans appreciated Stevie J's Instagram posts that showed him with his children. Some viewers, however, questioned Bonnie Bella's absence in the photos. "Why he never have Bonnie Bella," one fan asked. "She is so beautiful. I don't understand some men." Another critic said, "I guess Bonnie Bella don't (sic) exist."
One of Stevie J's followers had a theory that the celebrity father was intentionally shutting his youngest daughter out of the group. The critic had a rather strong admonition for the celebrity father.
"She is a baby," the commenter said. "Don't shut her out. Include her in your life. And your wife should be encouraging you to do so as a man and a dad. No matter what is happening with you and her mom, it has nothing to do with her. Do not deprive her of her father's love. She's precious, a baby, and a JORDAN. Do right, Stevie."
It seems that Stevie heard the concerns of his public, which is why he uploaded a picture of Bonnie Bella that the little one's mom shared a few days ago. Critics were sure to tell Stevie that the photo belonged to Joseline.
"You took this off @joseline's page," one fan quickly noted. "He took this from @joseline's page," another viewer affirmed. Stevie cannot seem to win for losing when it comes to Bonnie Bella.
View this post on Instagram
Joseline Hernandez and Stevie J recently solved their child custody war according to a recent report by TMZ. The media source reveals,
"Stevie and Joseline hammered out the details — in legal docs obtained by TMZ — for 1-year-old Bonnie Bella. Stevie — who makes $30k/month — will pay Joseline $1,000 a month in child support. The docs say Joseline also rakes in $30k/month on her own.

The pair also agreed that when Bonnie is with either of them, they will not have any overnight or intimate guests."
Stevie and Joseline hammered out this deal last year. The celebrity father has joint physical custody of Bonnie Bella. Joseline, however, maintains primary physical custody of the little one. Stay tuned for more celebrity baby news!
The post STEVIE J SCOLDED FOR NOT POSTING PHOTOS OF HIS DAUGHTER WITH JOSELINE HERNANDEZ appeared first on BCK Online.