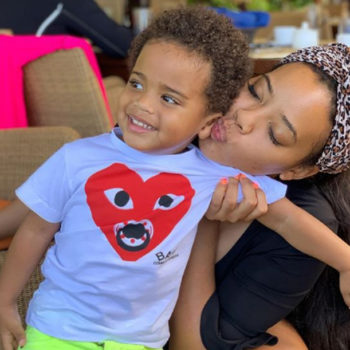 During the the season premiere of Growing Up Hip Hop , Angela Simmons recounts the death of her ex-fiance and baby's father, Sutton Tennyson. Simmons had a lot of support coming from her brother Jojo Simmons as well as good friend Romeo Miller.
"Sutton was my fiancé. He's my child's father and I got the news from his best friend, Charles, that he had been murdered," Angela told viewers in Thursday night's episode. "It's still shocking and it's just the last thing I can imagine happening to my life," the GUHH star explained.
View this post on Instagram

As this year comes to a close … I reflect on the most difficult hurdle I've ever had to face. And it's losing my son's father . To know that you are with us in spirit is sometimes just not enough . But as the new year comes in I know that I will do my best carrying Sj with your strength and mine. And now being mommy and daddy to our beautiful son . Thank you for my best gift ever. Sj will forever carry your name. Rest now . I got us 2019 we are ready .
During the clip, Jojo Simmons asked his sister how she is dealing with the death of her son's father. To which she replied, "It's a process honestly," Angela revealed. "Some days you wake up where is not a good day and some days it's an OK day. Yeah, I know it's a healing process. I'm looking at him every day through his child. He has his name so I wake up and I'm like, 'That's his kid.'"
Sutton Tennyson was shot and killed in an Atlanta parking garage last November. Angela Simmons revealed that she felt "numb" after hearing that her baby's father had died.
View this post on Instagram

Happy New Year from me and mine
"I have to be mom and dad," Simmons shared on Thursday night's premiere. "I'll definitely need support and men that can teach," Angela told Safaree. "I can't teach him everything."
Catch Growing Up Hip Hop every Thursday on We TV!
Check out a first look at the Return of Season 4 of GUHH (1:40 mark):
The post ANGELA SIMMONS SPEAKS ON THE DEATH OF HER EX FIANCE AND BABY'S FATHER ON A NEW EPISODE OF 'GUHH' appeared first on BCK Online.