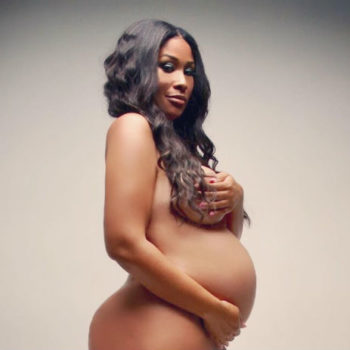 Less appears to be more in this week's baby bump watch. Take a look at these expectant stars as they bare it all for a sake of a fabulous candid or two!
1. Anansa Sims
She is baring all for the sake of beauty. Anansa Sims is the epitome of fierce as demonstrated by this fabulous candid. "The Goddess," one fan wrote online. We totally agree!
View this post on Instagram

Just when you think you know Love, something little comes along to remind you just how big it really is. by @michaelletterloughjr #anansasims
2. LeToya Luckett
View this post on Instagram

Peace, patience & strength. That's some of the main things I'm praying for in this stage of my pregnancy. I'm excited , a little afraid of the unknown , but I feel a sense of peace like I've never experienced before. My cup of emotion runneth allllll the way over ( just ask my husband ) but I love it! I feel free to….. feel. That's something a lot of us run from , because we're afraid of what those " feelings" will lead to & sometimes the expectations of the world make us run & hide from our feelings instead of embracing them. The hell with that! I want to be present & in order to do that, I have to be open to truly experiencing EVERYTHING that God is putting before me. He has prepared me for this. I want everything in his will for my life & I won't allow anything to get in the way of that. I want everything in his perfect timing. God has his own sense of timing: 'With the Lord one day is as a thousand years and a thousand years as one day' (2 Peter 3:8, AMP). He has perfect timing: never early, never late. God is never in a hurry, but he is always on time. PEACE & LOVE my friends
We are grateful for T.I. & Tiny: Friends and Family Hustle because the show gives us the opportunity to see LeToya Luckett and her husband, Tommicus Walker, as they travel the path of expectancy. A recent episode of the series revealed the support system that LeToya and Tommicus had while getting an update on their unborn child during a recent doctor's appointment.
View this post on Instagram

I can't put into words how grateful I am for the love , support & prayers you guys have showered me with through out my pregnancy journey! I normally don't share things like this, but you guys have been so awesome to me I wanted to give you a sneak peak into one of my sonos. I only have a little more time until she gets here so of course the doctors visits & sonograms have become a little more frequent. Well my last visit @storkvisiondallas was awesome!! Not only that , @meetyourbabyvr is about to create a Virtual reality experience from video taken from my last sono. I still can't believe it's real, but seeing her so clearly made me realize I'm getting closer to being somebody's mama mama @meetyourbabyvr @storkvisiondallas #meetyourbabyvr #expecting #baby #3dultrasound
3. Joie Chavis
View this post on Instagram

Patiently waiting. Ok i lied. I'm so impatient Feels like I've been pregnant for 12 months
Joie Chavis is patiently waiting for her baby to arrive. Okay, no seriously, she may not be patiently waiting. "Feels like I've been pregnant for 12 months," the expectant models revealed in a recent Instagram post. You've got the baby glow, though, Joie!
View this post on Instagram
The post BUMP WATCH: ANANSA SIMS, PORSHA WILLIAMS, AND MORE! appeared first on BCK Online.