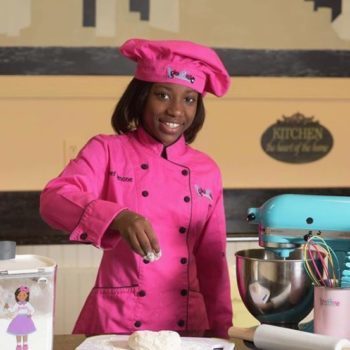 If you haven't heard the name Simone Bridges, listen up, because it is definitely one name that you will hear a lot of in the future! This talented 12-year-old chef, owner of Goddess Food Factory, located in Jacksonville, FL, already has celebrities, athletes, and more hooked, especially on her famous Snicker Brownies.
A student at Darnel-Cookman School for the Medical Arts, Bridges has a love for Science and Math, so much so, that she earned the name STEMchef at school. Incorporating the science of food into her baking, this young culinary genius is definitely proving that you are never to young to start in the kitchen.
Taking her love of baking and creating a business, Chef Simone started ExS.T.R.E.A.M. Baking Subscription Boxes, where requests for her recipes can be sent out with STEM themes included.
Dream Believe Achieve Chef Simone Bridges is a 12 year baker, entrepreneur, motivational speaker, and youth STEM/STREAM advocate. #goddessfoodfactory
The post TWELVE-YEAR-OLD CHEF SIMONE BRIDGES IS A FOOD GODDESS appeared first on BCK Online.