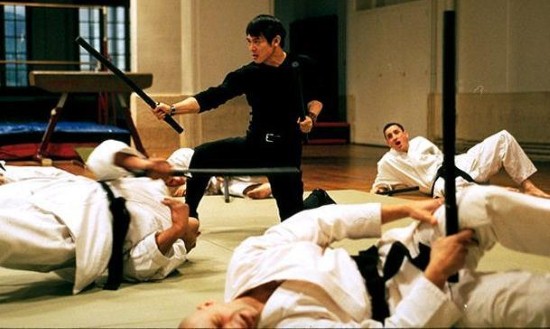 Should you be a person interested in action movies, mostly like you also love to watch karate movies. These films has been well known partly because of Bruce Lee one of its major proponents in the 70s. You will be shocked to know some films of this variety, has made it to the top
Movie
list of several moviegoers.
The story on these films usually never changed, it is about a man usually the main lead who must rescue a damsel in distress. It will soon be revealed to the crooks, that the guy can fight with only his hands as his weapon. Here comes all the best karate moves and combative skills, which the lead character will use to end up victorious in the end and end up as a hero.
A few films combine action and comedy. You would usually see a side character trying to emulate the main character's fighting skills. That is usually where the comedy is, the side character ends up being hurt and in many occasions must be rescued by the lead guy.
Occasionally you will see films that will have elaborate set designs and costumes especially if the film is set to show much of the past. In some films, you will see a lot of street fighting especially if it is a present day movie. Whatever the variation, the story remains the same, a lot of karate moves which moviegoers enjoy watching.
It is a genre, that has attracted a cult following. Moviegoers love it because it is highly entertaining. Although much of the story is oftentimes predictable, people still love to see these kind of movies. The fast paced action sequences and followed by breath-taking and death defying stunts all make it worthwhile to watch, enough to give you adrenaline rush.
Apart from entertainment, there is more to what these films offer. It introduced the east to the west. During the 1970s, there are only a few people who know something about the East. Not only did these films introduced
Martial Arts
, it showed a lot of the Asian culture, history, places and even food.
It made a lot of martial arts mainstream. People became fascinated with martial arts that you see tremendous growth in martial arts training specially in the fields of taekwondo, karate and judo. There are also a great deal of international competitions for these sports as well.
One positive contribution in our society that is typical of these movies, is the life of its main character. Exemplifying modesty, positive attitude, mental alertness that one get from mastering the art of karate. A lot of people try to emulate this kind of life which is very positive.
If you think karate movies are just any other kind of films, think again. While there is so much to enjoy about the film stunts and fighting sequences which gives a pleasurable experience. It has a positive message as well that is, good always win over evil.
Need to catch up on Movies and your favourite actors? Offering variety of free films to choose from with new arrivals coming in daily. From Horror Movies , flicks movies to comedies, you will find films perfect for you.
This post first appeared on All-In One, please read the originial post: here