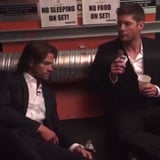 Hangin on the #TheFlash set w/@jarpad .. Hey @grantgust how do u get any work done with all these rules? #NeedNaps pic.twitter.com/nxcspxDHEQ

- Jensen Ackles (@JensenAckles) August 8, 2016
Ever wonder what happens when you leave Jared Padalecki and Jensen Ackles alone on set? On Monday, Jensen answered that very important question when he uploaded a clip of the two Supernatural stars napping and eating while recently visiting the set of The Flash. While it may seem harmless enough, Jensen quickly notices two signs behind them that read "No sleeping on set!" and "No food on set!" Clearly, they're tired from all the filming they've been doing for their hit show. To fully appreciate the hilarious moment, watch the clip above, then fawn over these cute pics of them together.
Fun times. #SPNFamily https://t.co/3luSCPYZVs

- Jared Padalecki (@jarpad) August 9, 2016