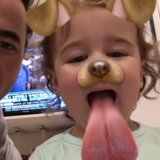 Look @daniellejonas I got you a Puppy for Valentine's Day!!! 😝😝

A video posted by Kevin Jonas (@kevinjonas) on
Kevin Jonas shared a playful moment with his 2-year-old daughter, Alena, via Instagram on Thursday. The little one had fun with Snapchat's latest filter that turns you into a dog when you open your mouth. Kevin captioned the photo with a shout-out to his wife, Danielle, writing, "I got you a puppy for Valentine's Day!!!" This is just the latest in a slew of aww-inducing moments we've seen between Kevin and Alena; in December, she danced to one of her dad's old Jonas Brothers songs, and back in June the pair matched jerseys while cheering on the US women's national soccer team. Watch the cute video now, then check out all the celebrities you should be following on Snapchat.