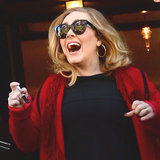 Watch Adele photobomb and surprise fans while they take a picture with her Oscar! https://t.co/p1wRGtug1j

- Adele Union (@AdeleUnion) December 3, 2015
Adele just never really fails to make us smile. This week, not only did she give another startlingly fresh interview as part of her cover story for Vogue's March issue, but a funny video has also begun making its rounds. In the clip, fans of the singer pose with her Oscar. Unbeknownst to them, though, Adele and talk show host Graham Norton slip into the background with hilarious props, disguises, and more. Although the clip was originally posted in a tweet back in December, it's just now picking up steam, and we're not complaining. It's just as endearing as her Carpool Karaoke session with James Corden and that time she disguised herself as an Adele impersonator. Watch the lovable star in all her glory above.