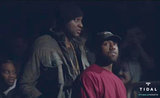 Lamar Odom looked happy and healthy while checking out Kanye West's Yeezy Season 3 presentation during New York Fashion Week on Thursday; the former NBA star was spotted standing next to Kanye on the Tidal livestream of the show. It's the first time we've seen Lamar since he was hospitalized back in October after being found unconscious in a Las Vegas brothel. He joined Kanye, as well as his estranged wife Khloé Kardashian and her sisters, Kim, Kourtney, and Kendall, in the crowd.
Lamar and Khloé reportedly jetted off to NYC earlier this week for the Fashion Week outing. A source told E! Online that Lamar was "very nervous to be making his first public appearance," adding, "He spoke to Kim and Kanye about their thoughts about him attending the Kanye show before, but it was Khloé's ultimate decision." The source went on to reveal that Khloé is "making all the calls" on what Lamar does next and "won't be leaving his side."
Khloé recently opened up about Lamar's improving condition in an interview with Ellen DeGeneres, saying that he was "learning to put sentences together" and walk on his own. The reality TV star called off her impending divorce from Lamar after his hospitalization but has repeatedly told press that it isn't an indication of them rekindling their relationship.