Sky News' Ireland correspondent David Blevins says officers are still dealing with a fully constructed bomb found at the dump.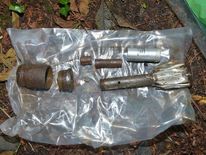 He said the dump included "fire arms explosives and pipe bombs" and that police say some of the items were in an advanced stage of readiness.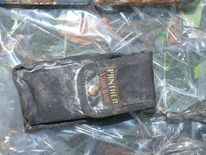 Police Service of Northern Ireland Detective Superintendent Karen Baxter said that one of the items found was a "fully-constructed explosive device".
She added that the find had "all the hallmarks of violent dissident republican activity", adding: "It is sad in some respects that people are so intent on killing other individuals in Northern Ireland."
Members of the security forces are under threat from dissident republicans who are opposed to the peace process.
Police, prison guards and soldiers have been among those targeted.
Officers had spent two days searching the outskirts of Lurgan and the weapons were found near an abandoned house close to the railway line between Belfast and Portadown in Co Armagh.
Det Spt Baxter said: "We consider this to be a significant and successful find.
"It has made communities safer and it has undoubtedly saved lives."
Sky News.