The National Trust has issued a warning after the Sky News helicopter captured it on camera on Friday.
The footage from Dover shows two men jumping up and down with mobile phones in their hands just yards from the edge.
They appear to be trying to destabilise what already seems to be a precarious piece of the famous white cliffs.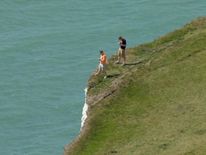 There have also been reports of people doing the same at Cuckmere Haven and Beachy Head in East Sussex.
It comes as The Times of India reported that a 22-year-old died after falling off a cliff while attempting to take a selfie in Kodaikanal.
The National Trust told Sky News: "The chalk cliffs can be unstable in places, as shown by the recent cliff falls, and there are sections which have some undercuts.
"We recommend that visitors stay at least five metres from the cliff edge and we have warning signs in place.
"We do not intend to fence the cliff edge because it is an obvious hazard and we have put in place clear signs.
"Fences are easy to climb over so they wouldn't prevent visitors who wanted to get to the edge. As the area is open access countryside, there would legally need to be gates into the fenced area."