At least 26 people have died after a tour
Bus Caught Fire
in Taiwan's Taoyuan city, according to local officials.
The bus smashed into a roadside barrier on a
National Highway
and
Caught Fire
, Taiwan's Central News Agency (CNA) reported.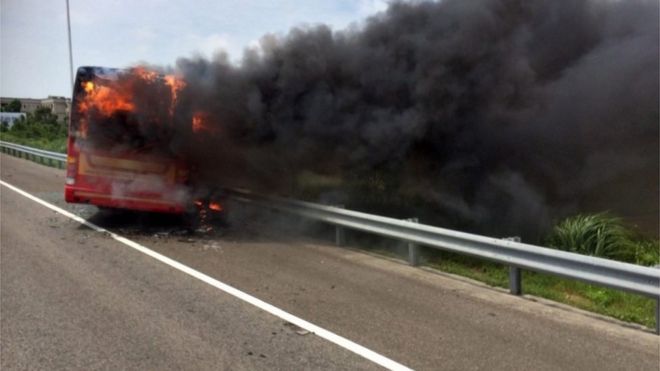 It had been bringing the group of Chinese tourists to Taoyuan Airport to catch a flight back to Dalian.
Officials said there were 24 tourists on board plus a local guide and driver.
"The fire moved very fast. All 26 died," Lu Jui-yao, an official with the National Highway Police Bureau told Reuters.
Pictures from the scene showed thick black smoke and flames engulfing the bus.
The cause of the crash, shortly before 13:00 (05:00 GMT), was not immediately known. Taiwan authorities are still investigating.
Taiwanese cabinet spokesman Tung Chen-yuan said tourism government officials had reached out to their mainland counterparts and would arrange for relatives of the victims to come to Taiwan.
BBC News.
This post first appeared on Quest Times, please read the originial post: here