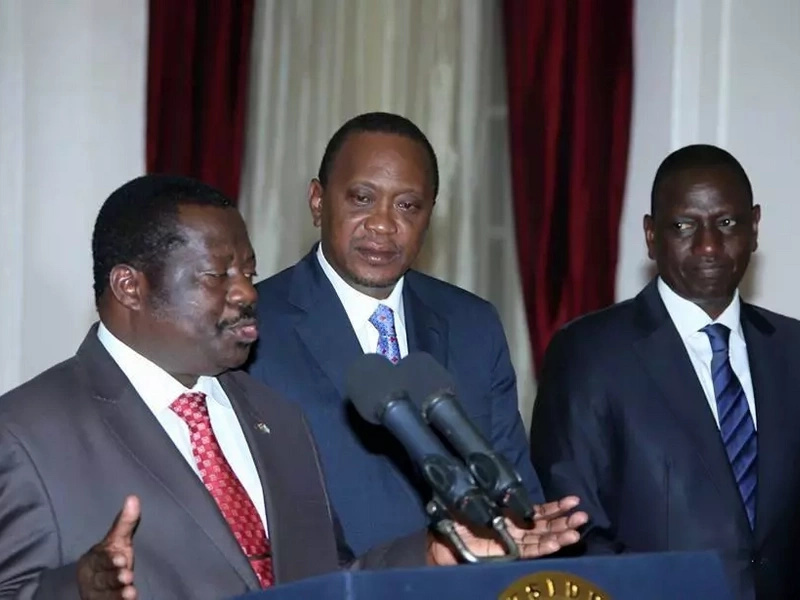 – The government will soon start paying teachers based on their performance through contracts and not by collective bargaining agreement mediated by trade unions
– This means that the teachers unions may be rendered irrelevant
Plans to have teachers paid according to their performance at work have caused a new battle between the government and the teachers unions.
But what is the appraisal system that the Teachers Service Commission (TSC) is rollling out for teachers?
Linkup Africa has established the system for teachers in all public schools is meant to increase performance, determine promotion and also salaries.
If implemented it will change how teachers are awarded increased salaries and benefits.
Pay for teachers has been determined by negotiations with their unions for a long time now with no particular indicators or measures put in place to ensure that teachers are paid for work done – making the unions irrelevant.
The new system will provide for specific yardsticks which each teacher will be required to attain with its trial having taken place in 5, 000 teachers in six selected counties.
TSC has rolled the new system in 500 public schools in the counties of Nyeri, Uasin Gishu, Kwale, Samburu, Kitui and Kisumu.
"In future, it is intended that this appraisal system may be linked to the teachers schemes of services so that it becomes one of the many other considerations for promotions and hence remuneration," a report of the appraisal system states.
The appraisals are also seen as a strategy to boost learning in public schools following a spate of poor performance by candidates in national exams compared to their counterparts in the private ones.
But the larger goal is to introduce a private sector philosophy into the public education system that rewards employees for performance.
Knowledge
Under the system, the teachers will be required to demonstrate that they first understand what they are teaching, the tools they use to share knowledge in class and their methods of assessing learning.
They will be expected to regularly produce records of works including lesson plans, notes, teaching aids, books, report forms or results and experiment records and test papers, among others, used during teaching.
They will also need to produce a timetable of their work.
All these records will then be submitted to TSC county directors each November.
A teacher will evaluate their performance against agreed standards and identify their strengths and where they need support for development.
At the same time a senior member of staff also evaluate them during the first term of each school calendar. They will they review these scores during the second term.
The appraisals are then compared and agreement reached as to what support the teacher needs to improve.
To ensure that both teachers and their evaluator are appraising effectively, both partners need to gather evidence to support their judgements.
The senior is also expected to observe the teacher in class and the record of that observation can be used as evidence by both partners, according to the brief.
In case a disagreement occurs between the two appraising parties, there will be an arbitrator to reconcile the judgements.
Rating
Under the system, there are no percentage ratings or ratings based on subjective terms such as 'good' or 'poor' neither are the ratings based on a 3, 5, 7 numbered-like type scale.
There are only three standards where the teacher is either 'at standard', 'transitioning to standard' or 'not at standard'.
The appraisal will also include support programmes as peer support, mentorship, coaching, team teaching, and in-service training for teachers who fall below the required standards.
This is a clear break from earlier form of appraisal by the TSC that was called confidential reporting.
The method was in the form of confidential reporting whereby the headteacher or principal would write a report on the teacher each year.
The teacher had no input on this report and in most cases did not even know what had been written about them.
The confidential system lacked measurable and quantifiable criteria for measuring teacher performance leading to calls for an open appraisal system.
TSC, British Council Plan
This led to the development of the pilot programme called 'Teacher Performance and Integrity in Kenya' first launched in 2014 by the TSC in collaboration with the British Council.
Some 2,000 field officers have already been trained to oversee the pilot project that is expected to in 2015 before the formal introduction to all public schools in the country.
The new Code of Regulations for Teachers (2014) mandates TSC to develop an appraisal system.
"The Commission shall develop an open performance appraisal system for teachers to strengthen supervision and to continuously monitor the performance of teachers in curriculum implementation at the institutional level," section 50 of the code states.

It adds that "every head of an institution shall submit an annual staff appraisal report to the commission."
The report said teacher appraisal was not the same as performance contracting because "is about personal development through self-evaluation and negotiated goal-setting."
During transfers to other schools, teachers will carry their records to their new schools.
Teachers Unions
Wilson Sossion, Kenya National Union of Teachers secretary general said the appraisals would instil professionalism in teaching and increase productivity.
"We support the appraisal systmem. The final document will have to be signed between the teachers unions and TSC," Sossion had said about the plan earlier.
Knut was a part of the team that travelled to the United Kingdom in 2014 to learn how appraisal for teachers are done.
Kenya Union of Post Primary Education Teachers welcomed the appraisals saying they would improve learning in public schools.
However, Kuppet boss Akelo Misori said the government needed to do more to ensure that public schools were well equiped.
"It is important to also interrogate the role that the employer of the teachers is playing. Schools needs to be well staffed, libraries stocked with books, laboratories with required equipment, amonmg others" Misori said.
Kenya Secondary Schools Heads Association (Kessha) said the appraisals "are long overdue" and called for their immediate implementation.
"To sustain quality education we need regular assessment. The assessment should not just be for the learners but also the providers of the knowledge."Kessha chairman John Awiti said.
Awiti, who is also the principal at St Mary's Yala, noted that professional support of the teachers should also be prioritised in the new scheme.
"This will ensure that teachers are in a constant position to deliver with new skills. We can't rely solely on training offered in the colleges," he added.