– President Uhuru Kenyatta has presided over the passing-out parade of 3,933 new police officers– Uhuru challenged the National Police Service to urgently fight corruption in the service in order to improve efficiency– Kenya has about 50,000 police officers; the country still needs at least 95,000 officers in order to meet the UN recommended ratio of one police officer to 450 citizens
President
Uhuru
Kenyatta has challenged the National
Police
Service to deal with issues of integrity in the service.
Uhuru, on Friday, February 12, warned that failures of integrity weaken could weaken the service and completely destroy it if left untreated.
"I want to challenge the leadership of the service to aggressively deal with integrity aspects of the reform agenda… Failures of integrity also rob us of the public support we must have if we are to protect Kenyans," he said.
The president added that lack of integrity in the Kenya police service makes the investments made, including the recent acquisition of armoured vehicles, count for little in the eyes of Kenyans.
He was speaking at Kenya Police College in Kiganjo, Nyeri county during the passing-out parade of 3,933 new officers.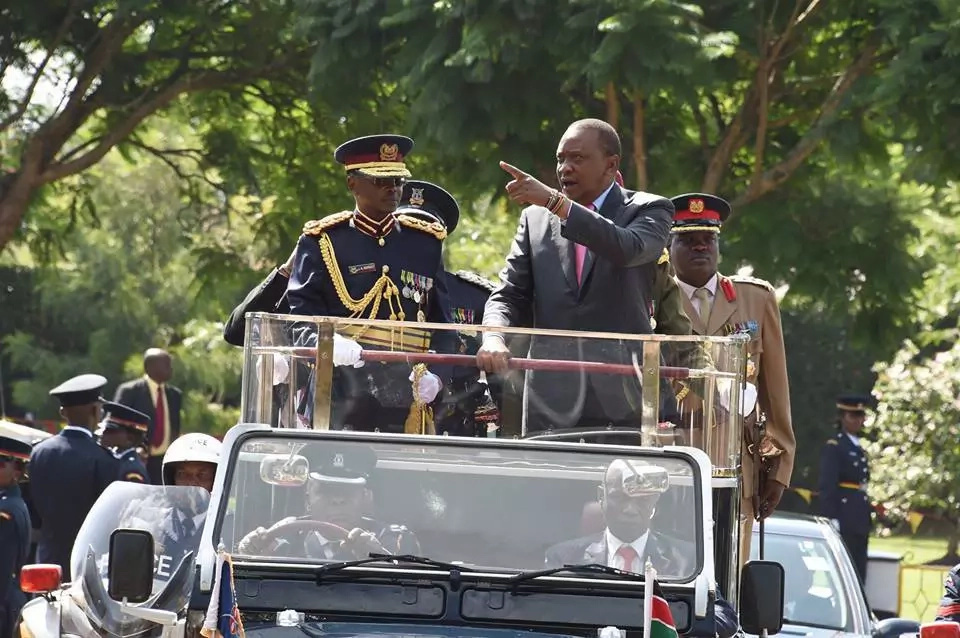 President
Uhuru Kenyatta
and Inspector General Joseph Boinnet during the Kenya police passing out parade in Kiganjo on February 12. Photo: PSCU
Uhuru congratulated the officers for successfully completing their rigorous training and urged them to be patriotic and diligent in serving Kenyans.
"This is no job for the faint hearted: the security of our people and their property is now in your hands. That is a heavy responsibility," he said.
President Uhuru Kenyatta during the
Kenya Police Passing
out parade in Kiganjo on February 12. Photo: PSCU
Integrity, which is one of the seven core values of the Kenya police, has been proving difficult to uphold in the service which is constantly being rated as one of the most corrupt public institutions in the country. Other core values of the service are: justice, equity, participation, accountability, openness and civility.
In January, Uhuru openly expressed his disappointment with the high levels of corruption in the Kenya police. He claimed that during his month-long stay in Mombasa, he saw two officers openly taking bribe from a matatu.
On police shortage, the president promised that more officers would be recruited in to meet United Nations recommended ratio of one police officer to 450 members of the public.
Currently, there are about 50,000 police officers yet Kenya needs at least 95,000 officers in order to meet the the UN standards.