– Deputy President William Ruto and his co-accused Joshua Sang have gotten a major victory after ICC appeal chambers ruled in their favour– Judges say the recanted testimonies were presented in court without giving the accused opportunity to cross-examine the witnesses said witnesses– Kenya had opposed an August 2015 ruling that allowed ICC Chief Prosecutor Fatou Bensouda to use recanted witness statements based on Rule 68
Two Kenyans facing charges of crime against humanity at the International Criminal Court (ICC) have recorded a major win.
Deputy President William Ruto and journalist Joshua Sang, on Friday, February 12, won their appeal against prosecution's use of recanted witness statements in their cases.
"The prior recorded testimony was delivered without an opportunity for the accused to cross-examine the witnesses," said presiding judge Piotr Hofmanski as quoted by BBC.
This is a major blow to ICC Chief Prosecutor Fatou Bensouda who greatly relied on the recanted witness testimonies to pin William Ruto and the journalist. She said the testimonies were vital in proving Ruto and Sang's involvement in the 2007 post election violence.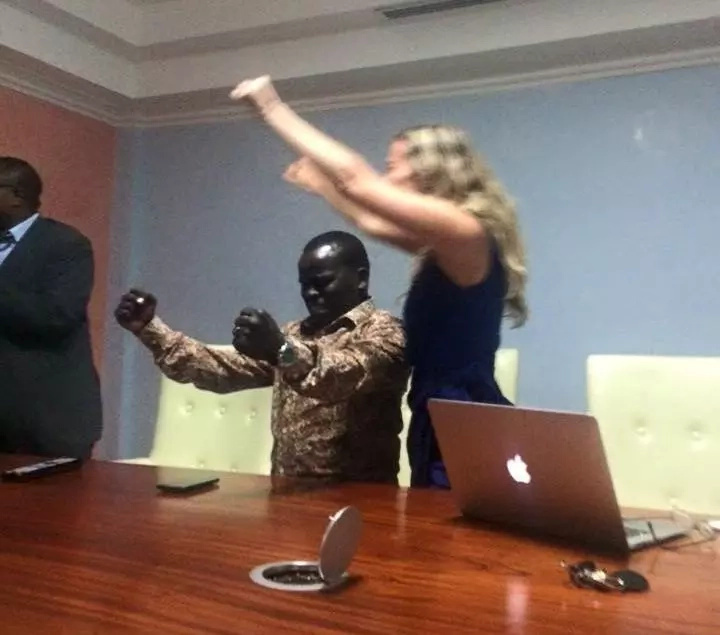 Joshua Sang celebrates with his lawyer after the ICC Appeals Chamber throws out recanted evidence of 5 witnesses. Photo: Kiborek Reuben
Kenya had put a spirited fight to reverse ICC judges' ruling in August 2015 that allowed Bensouda to use five recanted witness statements against William Ruto and Sang.
The government argued that Assembly of State Parties (ASP) adopted ICC Rule 68 in 2013 with an assurance that it would not be applied retrospectively to the disadvantage of Kenyan cases.
Rule 68 (2) (c) and (d) of the Rules of Procedure and Evidence was amended by the ASP in November 2013 to allow evidence from witnesses who had died, were presumed dead or unable to testify orally and where it comes from a person who has been subjected to interference.
The five statements thrown out had accounts of William Ruto's alleged involvement in the planning and execution of the post-election violence. The witnesses had claimed that the DP held 11 meetings – some at his home – to plan the violence and Bensouda presented evidence of money transactions and transcript of conversations to proving that the witnesses had been induced into recanting their original statements.