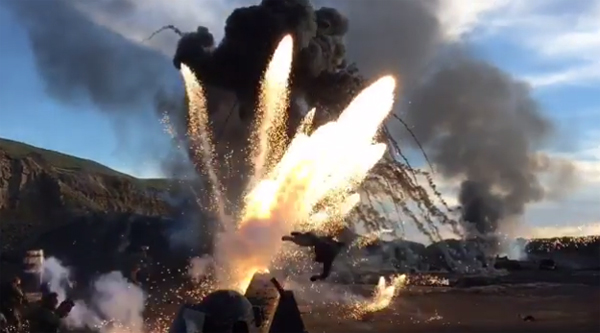 He's at it again. Michael Bay has been slated to direct the upcoming Transformers 5: The Last Knight. Due in June of 2017, it promises to be as exciting as the rest of the franchise. For the truly dedicated fans, we've rounded up seven interesting things you should know about the film:
1. The screenwriter is not Ehren Kruger as initially announced. Instead, it is Matt Holloway (the writer of Ironman). Additionally, Akiva Goldman, who is an Academy Award winning screenwriter is also said to be participating in the creation of the film's script and story.
2. Optimus Prime remains. At least, the voice for Optimus Prime has been locked down and it will be the same voice actor as the rest of the franchise. Actor Peter Cullen has already committed to the film, while the rest of the characters are still being cast.
3. Mark Wahlberg returns too. Though Wahlberg had initially pooh-poohed the option to return as Cade Yeager when he learned Bay might not direct, he did sign on once Bay had also made it official. Isabela Moner has already been signed. Jerrod Carmichael (of Neighbors fame) is also being considered as one of the lead actors in the upcoming film, as is Stephen Merchant.
4. Steven Spielberg is participating. Signing on as an executive producer, alongside Bay, he will take a very active part in the film.
5. The trailer has caused a billion theories. Just a close up of Optimus Prime's eyes, many worry that fans are about to see their favorite hero come up against the ultimate enemy – Nemesis Prime, or that Optimus is going to be somehow altered and corrupted. So many questions!
6. Megatron is back. Bay confirmed via Instagram that there will be a return of the Decepticon's infamous leader Megatron in this upcoming film.
7. Combaticons are going to appear in this film, as well as new Autobots. Bay used his Twitter feed to let the world get a look at "Onslaught" one of the Combaticons slated to appear in the film. If you are unfamiliar with them, they typically take on the form of military vehicles and tend to be among the "bad guys", working with Decepticons. Together, the Combaticons can unite to create the ultimate baddie – Bruticus.
8. BONUS: Something else to know about Transformers 5: The Last Knight is that June 2017 just seems to be getting farther away!
In addition to all of these interesting tidbits and teasers about the film, we also know that there are new video games and toys due to be released along with the film. One report said that "Paramount Pictures is about to sign an exclusive contract with a prominent video game producers based in Montreal to develop and launch the Transformers 5 video game simultaneously with a line of Transformer 5 toys". The same report indicated that new Transformers will appear and have matching toys available.
Perhaps one of the most amazing bits of information relating to the film comes from Stephen Davis, the president of Hasbro Studios: "We decided we wanted to plot out the next ten years of the 'Transformers' franchise, and so we got together in a room over a three-month period of time, nine of some of the most creative writers I have ever worked with. So stay tuned: 'Transformers 5' is on its way, and 6 and 7 and 8."
Well, that's something we're all happy to hear!
You may also like:
The Justice League
Mark Wahlberg as Cade Yeager
Laura Haddock
Anthony Hopkins
Stanley Tucci as Joshua Joyce
John Goodman as Hound (voice)
Josh Duhamel as Lt. Colonel William Lennox
Ken Watanabe as Drift (voice)
Santiago Cabrera as Santos
Gil Birmingham as Chief Sherman
Isabela Moner as Izabella
Jean Dujardin (rumored)
Liam Garrigan as King Arthur